Welcome to DHS!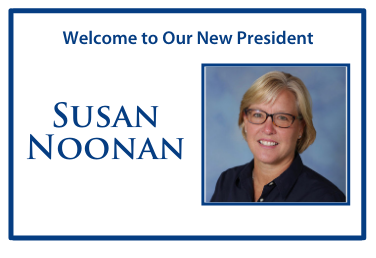 Duchesne High School has announced the hiring of Susan Noonan as its next president, effective July 1, 2021. Charles L. (Chuck) Nolan Jr. is retiring June 30 after serving in various positions at Duchesne over a total of 24 years, the last of which has been as president from 2015 to present.

Ms. Noonan has a master's degree in Educational, School, and Counseling Psychology and a bachelor's degree in Secondary Education, both from the University of Missouri — Columbia. She is currently working on her doctoral degree in Educational Leadership from Abilene Christian University.

Originally from St. Louis, Ms. Noonan was the Science Department Chairperson at Incarnate Word Academy in the early 1990s before moving to Texas. In Dallas, Ms. Noonan was at Bishop Lynch High School for 10 years and Ursuline Academy for the last four years.

In her senior leadership role at Ursuline, Ms. Noonan restructured the athletic department, streamlined hiring practices, raised funds for special initiatives — including a one-year drive for over $120,000 — and developed programs to enhance the Catholic identity of the school. While at Bishop Lynch, Ms. Noonan chaired the faculty council, participated in the presidential leadership committee, and worked with the admissions committee on behalf of enrollment efforts.

"We are excited about Ms. Noonan's return to St. Louis and look forward to introducing her to the Duchesne High School community," said Todd Sweda, Ed.D., senior director and superintendent for secondary education for the Archdiocese of St. Louis.

"It is an honor to get the opportunity to serve the Duchesne family and Pioneer Nation," Ms. Noonan said. "I look forward to hearing stories from the rich history of Duchesne and that of its predecessor, St. Peter High. I embrace the challenge of shaping leaders in mind, body, and spirit in conjunction with Duchesne's outstanding faculty.
"I would like to thank President Chuck Nolan for his steadfast leadership and support of Duchesne. A wonderful foundation is set that will enable Duchesne to blaze a brilliant path for our Pioneers!!" Duchesne Principal Fritz Long said, "I am excited to welcome Ms. Noonan to our Duchesne family and continue the work that has empowered Duchesne to shape leaders throughout the St. Charles and St. Louis regions as we keep the school moving in such a positive direction."