Grade school "Swifties" rock halftime performance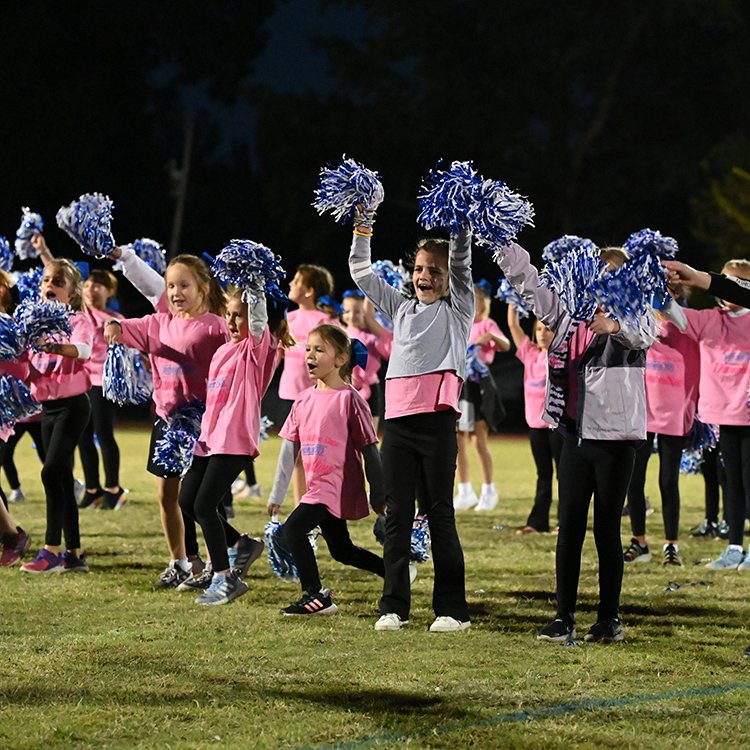 On October 6, the DHS Diamondline dance team led over 100 excited grade-school dancers to the field to perform a Taylor Swift dance routine at halftime during the boys varsity soccer game.
The event, called Friday Night Lights (Taylor's Version), was planned by Diamondline head coach Anita Borgmeyer '97 and Diamondline parent and DHS board member Dana Buckner to share the excitement of Duchesne's halftime performances with local grade school students and raise money for uniforms, jackets, poms, and other items for the dance team.
"Diamondline has always had summer dance camps," said Borgmeyer. "We wanted to bring [the kids] to the fun of our DHS Friday Night Lights!"
"We had over 100 future DHS Diamondline dancers, and it was awesome," said Buckner. "They played games, ate dinner, learned their Taylor Swift dance, received a t-shirt, bow, poms, a bracelet, cotton candy, and performed at halftime. We still have people commenting on how fun it was to watch those kiddos!"
The pre-K through 7th-grade students also enjoyed performing with the Diamondline dance team.
"These kids really look up to the high schoolers, so it was exciting to see them dance together," said Buckner.
The event was also made possible with the assistance of Diamondline parents, the Athletic Boosters, the DHS administration, and faculty.
It was quite an exciting night, and Borgmeyer said it would not be the last.
"We will have to brainstorm our theme… the bar has been set pretty high!" she said.