Dean Of Student Services Announced As New Assistant Principal Of Student Life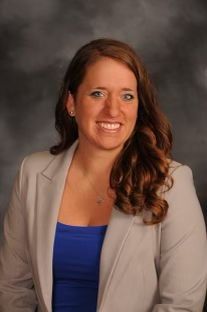 Duchesne High School is happy to announce Debi Turner '96 as its new assistant principal of student life. Turner will be taking on this role in addition to her current position as Duchesne's dean of student services.
This will be Turner's 10th year at Duchesne. She spent her first seven years as athletic director before moving on to her current position as dean. She graduated from Missouri Western University with a bachelor's degree in exercise science and is finishing her master's in teaching at Lindenwood University.
The assistant principal of student life is a newly created position focusing on curriculum, accreditation, and teacher observation. Turner said duties will be ever-evolving, focusing on whatever the school may require throughout the school year and providing an "extra set of hands" for the principal.
This position will expand on an already strong partnership between Turner, principal Dominic D'Urso '95, and president Susan Noonan.
"The three of us work so well together," said Turner. "Putting me in a position where we can work together more is kind of the idea behind it."
Turner is looking forward to continuing to work with students to help things run smoothly as dean and now extending that support to the teachers.
"I'm excited for a new challenge," said Turner.