2022 Pioneer Expedition Dinner Auction A Big Success For Duchesne!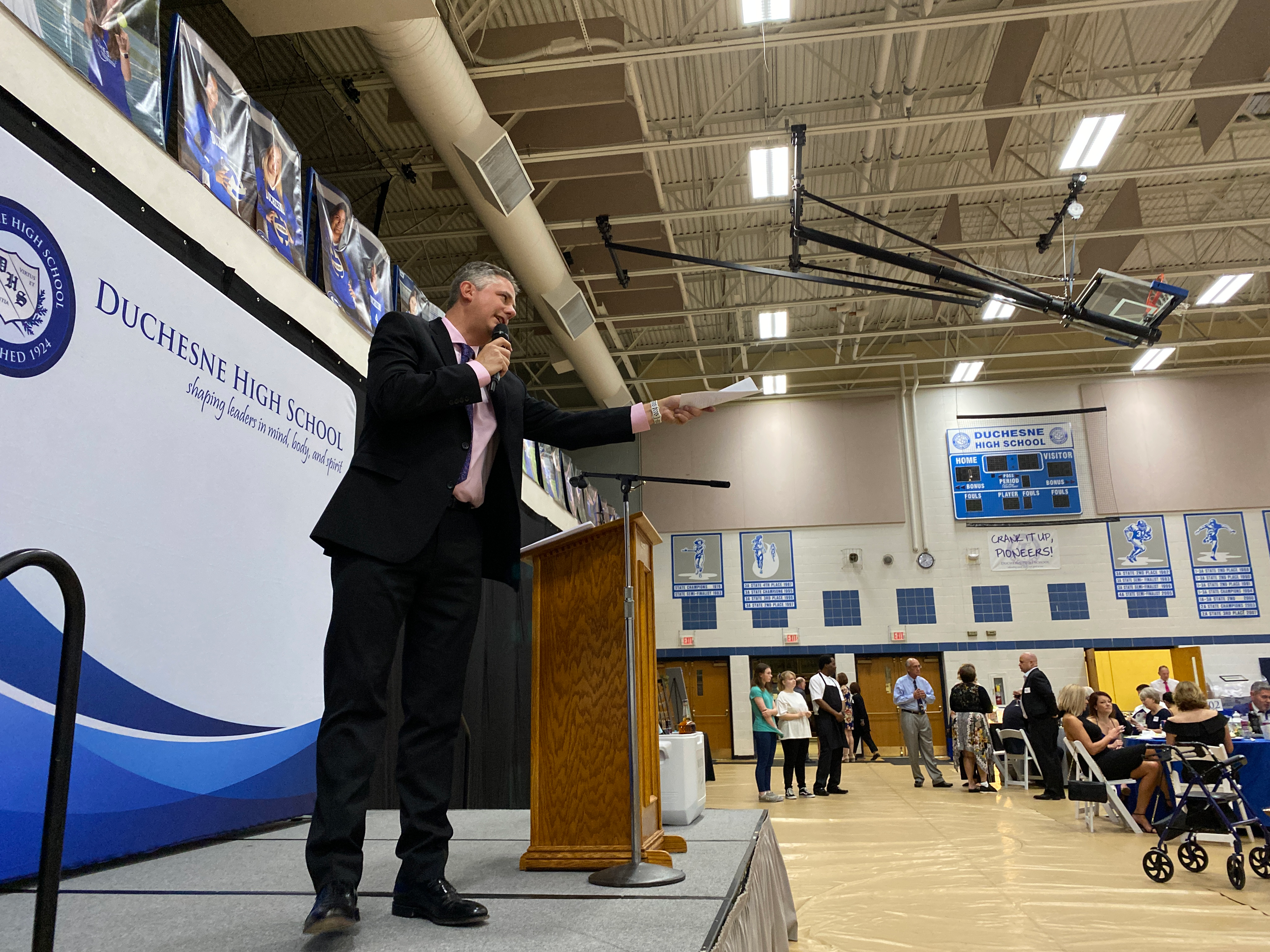 Duchesne High School's 42nd Annual Pioneer Expedition Dinner Auction wrapped up Saturday evening giving alumni, donors, and other friends of Duchesne the chance to help raise money for the school and its programs. The event featured dinner, live and silent auctions, as well as the much awaited drawing for 2022 Dream Home Raffle.
The high school gym hosted around 200 attendees who had the opportunity to bid on a variety of silent auction items that ranged from jewelry to home decor. Master of Ceremonies and Auctioneer, Jack Borgmeyer '97, kicked off the live auction which boasted a number of items that were hotly contested for, including a black lab puppy named Dixie that sold for $2,800.
The live auction culminated with Duchesne's Fund-a-Need for this year. Auction goers bid to help contribute to the expansion of the school's new Tech Center to include TV and radio broadcast facilities. The Tech Center currently serves as the site of the new eSports League and STEM lab. The auction raised $41,000 for the center, delighting Duchesne's Director of Technology, Kim Choinka, who is spearheading the project.
"I'm thankful for the generosity of the Duchesne community," she said. "We will be starting work on our newsroom and radio station, and should be up and running by the start of the next school year. Without your (the bidders) help this would not be possible."
One of the most anticipated events of the night was the drawing of the 2022 Dream Home Raffle, which sold just over 3,000 tickets. Priscilla Steimel, a 2011 Duchesne graduate, took home the grand prize of $150,000 credit from Fischer and Frichtel Homes or $120,000 cash. Steimel recalled that when she found out, it was quite the surprise.
"At first, I couldn't think who would be calling me at 9:30 p.m.," she said. "It was a surreal phone call and I still feel a little in shock that it actually happened."
When asked whether she would be choosing the house credit or the cash, Steimel had already made up her mind.
"I'm choosing the cash option because my husband and I are actually in the process of closing on a house right now," she said.
Steimel is one of 19 other winners who won cash prizes Saturday night.