2013 Recipient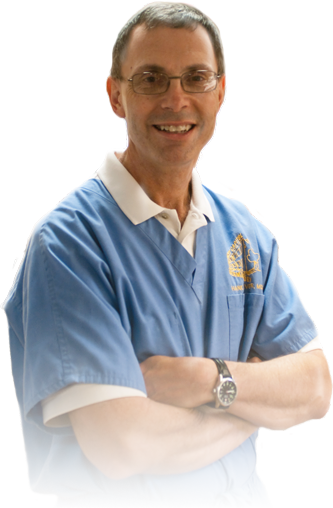 Hank Clever, Class of 1976
Hank Clever graduated from Duchesne High School in 1976. As one of 11 siblings, he is proud that his seven sisters and three brothers all graduated from Duchesne as well. All still live in the St. Louis area and consider themselves loyal members of the Duchesne family.
Hank attended Saint Louis University and earned his bachelor's degree in history in 1980. He then attended Kenrick Theological Seminary for two years. In 1982, he transferred to the University of Missouri – St. Louis to finish his pre-med requirements before enrolling at the University of Missouri – Columbia medical school. Hank received his M.D. in 1988, then spent his internship year at St. John's Mercy Health Center in St. Louis. He received his postgraduate training in dermatology at the University of Oklahoma in Oklahoma City. He then returned to St. Charles and has been in private practice since that time. In 2004, Hank took specialty training to round out his dermatology surgery skills and decided to specialize in cutaneous surgery.
In 1984, Hank married Ronda Horenkamp, also a native of St. Charles. They were married for three years, before Hank lost Ronda in 1987. He says the tragedy reshaped his entire life and underscored the gentle care of our loving God touching every aspect of his life. He was blessed to meet Dorie Evans while an intern at St. John's, and the two were married in 1990. Hank and Dorie now have nine children – Henry, Theresa, Greg, Paul, Jeromy, Zachary, Katherine, Bridget and Clare.
Hank humbly says that he owes a great debt to the community, the Church and God, and is grateful to his parents for encouraging participation in the Church and community endeavors as a way of passing on the blessings in his life. During his career, he has served on the Medical Executive Committee of St. Joseph Health Center, and was Chief of Staff in 2006 and 2007. He currently is a member of the hospital's Credentials and Peer Review committees. In 2008, Hank was elected to the Board of Directors of the American Society for Mohs Surgery, and completed his term as ASMS president in December 2012. He also is a founding member of the Board of Directors for Birthright of St. Charles, and served as the board's first president from January 2011 through December 2012. Previously, he was a member of the Board of Directors for Birthright of St. Louis from 1995 to 2010.
For Hank, community involvement doesn't come at the cost of family time. Over the years, he has managed and coached many of his children's baseball, softball and soccer teams. He also has served as an adult leader for his sons' Cub Scout pack and BSA troop; he has helped three of his sons to achieve their Eagle Scout rank, and yet another son will have his Eagle Board of Review in January.
Hank and his family are devoted members of St. Joseph Catholic Church in Cottleville. Hank is a lector and substitute Eucharistic minister, as well as a Cooperator in Opus Dei. He tries to attend daily Mass as a fulcrum of his work as a husband, father and physician. He also works one week each February at a medical mission at Hopital Sacre Coeur in Milot, Haiti (sponsored by the Knights of Malta and Crudem).
He says that his greatest privilege in life – other than as a child of the Catholic Church – is to be married to his wife Dorie. Hank praises Dorie's intense faith and love, sharing that "being a wife to someone involved in this many things – and keeping the schedule of a physician – requires a giving heart made great by the grace of God." Hank and Dorie happily say that their busy life with nine children "doesn't get any better than this!"
Hank credits the Duchesne High School faculty for preparing him to see that a life of giving is a life of joy and satisfaction. He especially thanks Sr. Marie Ambrose and Coach Frank Barrow for the foundation they created for him and their examples of Christian lives well lived for the glory of God.