2008 Recipients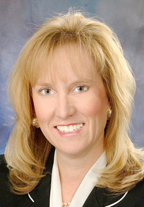 Julie Eckstein, Class of 1981
Julie Eckstein is a member of the 1981 graduating class of Duchesne High School. Throughout her career, Eckstein has worked to promote good health care services in St. Charles, in Missouri and beyond.
Eckstein earned a Bachelor of Science degree from the University of Missouri-Columbia and a Master of Business Administration degree from Washington University.
In the 1990s, Eckstein served as director of corporate wellness programs for SSM Health Care, as well as director of community programs at SSM St. Joseph Health Center and St. Joseph Hospital West. She was skilled in building coalitions to address community health needs.
In 2000, she founded CommunityCalendars.net, which provides online information about community events in the St. Louis Metro area and beyond.
Eckstein was executive director of Healthy Communities St. Charles County, a nonprofit organization that addresses public health concerns such as alcohol and drug abuse, violence against children, the environment, tobacco use, teen pregnancy and affordable housing. Under her direction, Healthy Communities was recognized many times with the Governor's Award for Community Health.
In 2006, Governor Matt Blunt appointed Eckstein as director of the Missouri Department of Health and Senior Services. As director, she engaged both state employees and outside partners in developing a visionary plan to ensure that her department modeled healthy behaviors and policies for the state. Eckstein also served as chair of the Missouri Healthcare Information Technology Task Force, holding a key position in the redesign of Missouri's Medicaid program.
Eckstein currently leads the Missouri office for the Center of Health Transformation, a collaboration of both private and public sectors initiated by Newt Gingrich. CHT works to generate and implement projects and solutions that promote value-based healthcare, increased access and reduced costs.
She has also served as a volunteer for a variety of community organizations, including the United Way, St. Charles Workforce Development Board, and the St. Charles Parks and Recreation Board, among others.
Eckstein was recognized as the St. Louis Woman of Achievement in 2000, was named a Missouri Jaycees Outstanding Young Missourian in 2002, and received the St. Charles Business Magazine Dove Award for Government Impact in 2003.
Eckstein has accomplished all of this while rearing her three children, Colin '07, Marcus '08 and Jillian, with her husband Mark. She is the sister of Mary K. (Lynch) O'Daniels '68, the late Thomas Lynch '70, Robert Lynch '73, Ann Lynch '75, Theresa (Lynch) Ruzicka '78 and Joseph Lynch '85.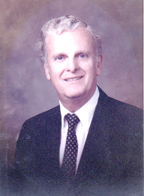 Don Graveman, Class of 1944
Don Graveman graduated from St. Peter High School in 1944. He was one of three students in his class to earn academic scholarships from the U.S. Army and Navy.
As a member of the Army Specialized Training Program, Graveman studied engineering at the University of Kansas, the University of Wyoming and the U.S. Armed Forces Institute before
becoming a First Lieutenant. He served in the Philippine Islands during World War II, and later was one of the 100 officers recalled for duty at the beginning of the Korean War. After his service in World War II, Graveman completed his Bachelor of Science degree in industrial technology at Saint Louis University.
Since 1960, Graveman worked in the design, manufacture and sale of a
variety of equipment, including metal recovery and medical waste processing systems. Through the years, Graveman obtained U.S. and international patents for 14 types of equipment, many still in use.
Graveman helped create Engineered Systems, a shredder and conveyor manufacturing business, in 1965. The company grew into Magnatech Engineering, which Graveman co-founded with his son Bill in 1987. Magnatech designs and manufactures the most complete line of recycling equipment
available in the U.S., and has been involved in engineering projects throughout the U.S. and around the world.
After designing medical waste equipment for Stericycle, Magnatech was contacted in 2004 by the Novian Health Company (formerly known as Kelsey) to create a medical device to treat both malignant and benign breast tumors. Magnatech designed a laser therapy unit that was more responsive, user-
friendly, less invasive and more economically feasible than other treatment methods. The system gained FDA approval in May, 2007, and the first treatment center will open this spring. Magnatech will continue to develop equipment for other forms of tumors, including those affecting the brain, prostate and liver.
Although he has enjoyed a long and successful career, Graveman considers his family to be his greatest accomplishment. After 20 years of marriage and seven children, Graveman's first wife, Lucy, died of cancer. His present wife of 34 years, Aggie, adopted his children; at the time, it was the largest adoption in the history of St. Charles County. Graveman's two oldest daughters, Mary and Jan, graduated from the Academy of the Sacred Heart High School. His five younger children graduated from Duchesne: Bill Graveman '74, Martha (Graveman) Young '75, Don Graveman '77, Kathy (Graveman) Vollmar '80 and Susie Graveman '84.