Russ '87 and Julie Clever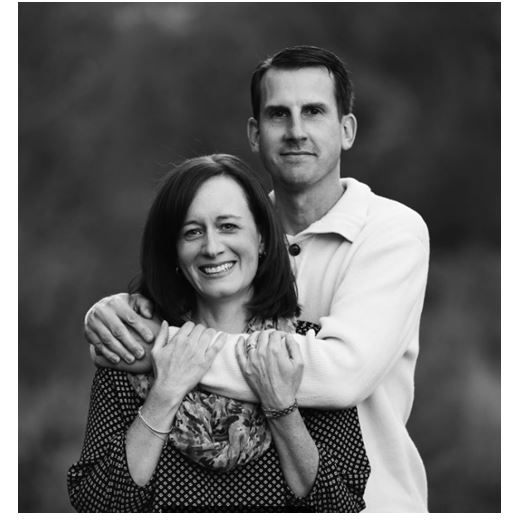 Russ Clever graduated from Duchesne High School in 1987. He is the ninth of Dr. Hank and Roseann Clever's 11 children, all of whom are DHS alumni. Russ met Julie Otto at the University of Missouri in Columbia. Julie graduated from Helias High School (the "Jefferson City" Duchesne) in 1988. They will be celebrating 20 years of marriage in July. They have two sons currently attending Duchesne: AJ is a junior and Mikey is a sophomore. Phil is an 8th grader and will be joining his older brothers at Duchesne in the fall. Daniel is a first grader.
Both Russ and Julie grew up with parents who were very involved in Catholic education. Whether it was serving on a school board or serving lunch in the school cafeteria, their examples made impressions on Russ and Julie. Service wasn't really a topic of discussion in their families. It was just something you did, and Russ and Julie learned from their parents' countless hours of selfless giving.
Russ is the current Advisory Board president at Duchesne. Julie chaired the Pioneer Expedition Auction reservations committee last spring. They have both served as parent tour guides at November Open House events the past few years. Russ and Julie are also members of the Enrollment Management Committee. Additionally, Julie has attended the Welcome Wednesdays this past fall as a parent representative. Most recently, Russ and Julie have agreed to co-chair this spring's Pioneer Expedition Auction.
Russ and the boys have volunteered at the annual Day of Service that is held every October. They have also helped at the Grade School Mixer and the Basketball Bash.
Russ and Julie have been parishioners at Assumption of the Blessed Mary in O'Fallon for 19 years. Russ has been a member of the Finance Committee for over 13 years. Julie was involved in the Mothers of Preschoolers ministry at the parish when the teenaged boys were younger.
Russ is a member of the Birthright of St. Charles Board and is co-chairing the annual Birthright Golf Tournament to be held in August. Russ and Julie have also volunteered in a variety of roles at Academy of the Sacred Heart and St. Charles Borromeo School.
Russ and Julie feel incredibly blessed to be able to send their children to Duchesne High School. "Mind, body, and spirit are not just words to the administration and faculty," they shared. "This motto is alive and flourishing in the halls of Duchesne and in the hearts and minds of all being educated there. We thank the administration and faculty for partnering with us in providing our children with a Catholic education beyond compare."