2013 Recipient
Tim Mitchell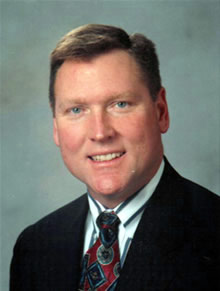 While Tim Mitchell is not a Duchesne High School alumnus, he feels very much a part of the Duchesne family. His wife Janet (Honerkamp) '78, sons Ryan '10 and Austin '13, and DHS in-laws and friends have given him a strong connection to our closely-knit community.
Tim was born and raised in south St. Louis County, and attended Southeast Missouri State University. He received his bachelor's degree in 1979, triple majoring in Marketing, Journalism and Communications. After graduating, Tim began a successful career in medical sales with Pfizer and Siemens Medical, serving as regional manager and with corporate national accounts for both corporations. In 1998, Tim embarked on a second career, fulfilling his lifelong dream of becoming a self-employed real estate investor and licensed realtor. Currently, Tim is the president and co-owner of New Town Rental Properties, LLC.
For the past three years, Tim has served as president of the Duchesne Athletic Boosters. Tim's term in office has been defined by an optimistic theme of his own creation: "It's a good time to be a Booster." Under Tim's committed leadership, the program has achieved an all-time high with regard to parent and community involvement. He has helped the organization to exceed their three-year fundraising goal of $150,000, relying on consistent communication and fun social activities to lay the cornerstone for the DAB's financial success.
Tim expresses gratitude for the members of our school community who willingly volunteer their valuable time and monetary donations for the benefit of Duchesne's student athletes. The experience of serving as DAB President has reminded him to be grateful and respectful to all, and to reward and acknowledge people for their contributions. Tim takes pride in the numerous ways Booster members positively impact the Duchesne community, whether purchasing team uniforms, repairing bleachers or building the new state-of-the-art concession stand.
After moving to St. Charles in 1982, Tim became a parishioner at St. Elizabeth Ann Seton Catholic Church. Tim's dedication to his parish community includes serving as a former chairman for several Apostolic Works Auctions, working on various picnic committees, and coaching CYC athletics for 12 years. In addition, Tim has been the president of the SEAS Men's Club for an amazing 15 years. The Men's Club has benefited from Tim's sales, marketing and fundraising expertise, enjoying a boost in memberships, social activities and financial contributions. Tim lists raising $135,000 for the construction of the Family Pavilion, which overlooks the SEAS athletic fields, among his biggest accomplishments.