2023 Dream Home Raffle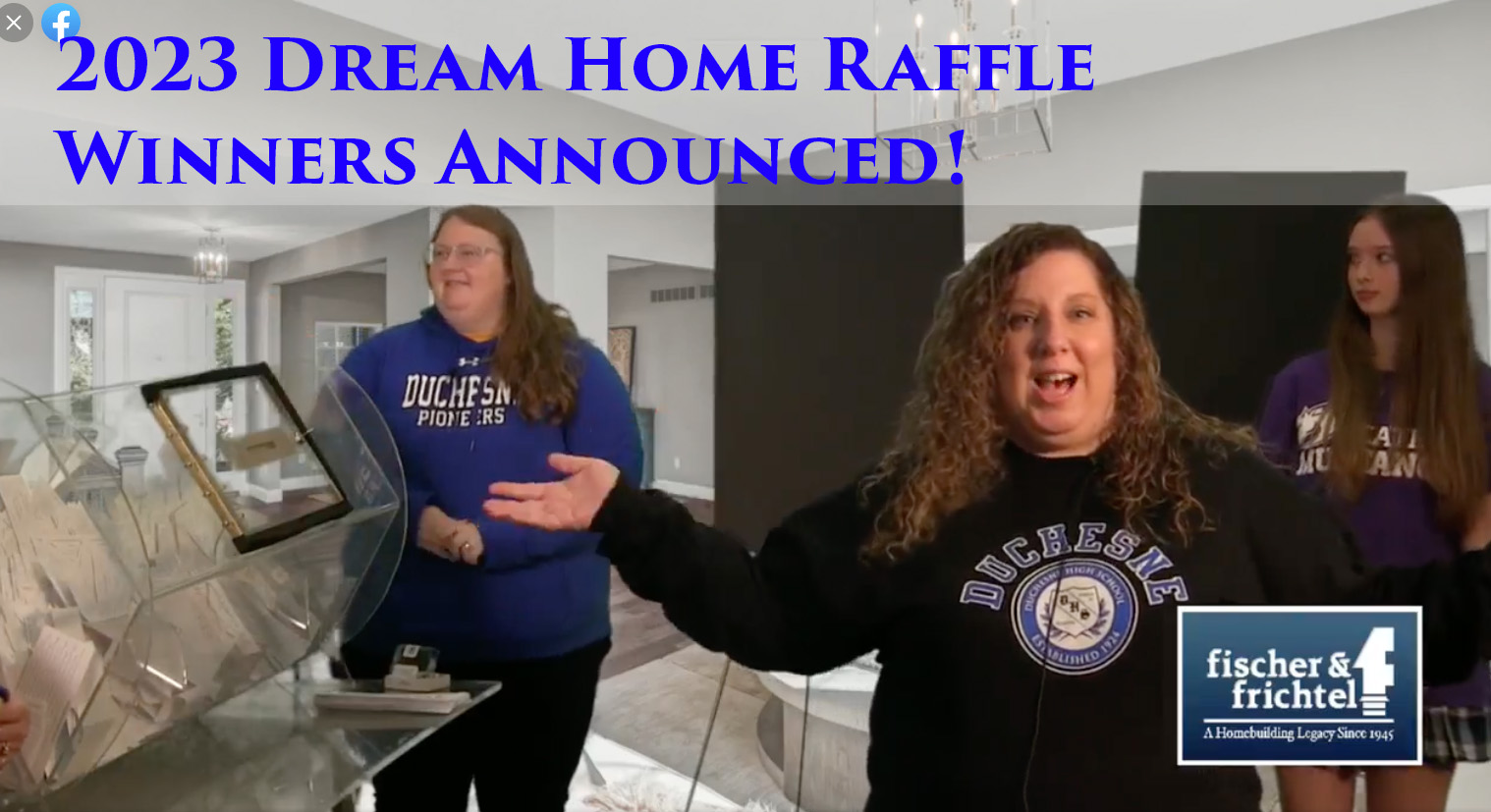 Did you miss the live drawing? Watch it on Facebook at https://www.facebook.com/DuchesneHighSchool/videos/976490980470375
Congratulations to our winners!
Grand Prize $150,000 credit toward a new home
by Fischer and Frichtel Homes or $120,000 cash
Jim Schottmueller
$5,000
Andrea McCarthy
$1,500
Donald Berns
Mary Ellebrecht
Stacey Thompson
$750
Valerie Friz
Brian Huntspon
Kathie Lawler
Mark Murphy
Kim Reibling
$500
Curtiss Beebe
Ian Dunn
David Knickmeyer
Joey Lewis
Pam Luesse
Sandra Meranda
Jeanette Robertson
Tom Schiller
Michelle Szydlowski
Timothy Pike
---
WE HAVE SOLD OUT!
Thank you to all of PIONEER NATION for making this possible this year! We are so grateful for your love and support!
Don't miss the live drawing this Friday on Facebook!
CONGRATULATIONS TUITION DRAWING WINNERS!
Doug and Christine Mills won FULL TUITION for one student for the 2023-2024 school year, and Ken and Amy Booth won HALF TUITION for one student for the 2023-2024 school year!
Thank you for your support of Duchesne!
OUR 2023 DREAM HOME EARLY BIRD WINNERS!
TONY BROWN
JULIE BADER
FABI LAGRIMAS
VIVIAN PRINSTER
SCOTT VERHEY
These lucky 5 ticket-buyers just won $1,000 each and will be put back in for the Main Drawing on April 28, 2023.
CONGRATULATIONS!
---
Dream Home ticket sales end on April 21, 2023.
Note: The Grand Prize Drawing will not be held during the Pioneer Expedition Dinner Auction this year.
The Dream Home Raffle offers the best odds in town: No more than 3,500 tickets will be sold, and each $100 ticket gives you lots of chances to win BIG prizes!
The Grand Prize Winner receives a $150,000 credit from Fischer & Frichtel Homes, OR a lump sum of $120,000 cash! Second Prize is $5,000 cash. 18 Third Prizes between $500 and $1,500 cash.
We ask each family to sell at least THREE Dream Home tickets. Tickets are easy to sell, and we offer great incentives for ticket sellers, too – including FREE FULL DHS TUITION for one lucky student, and HALF OFF TUITION for another student! Just click here or the Seller's Guide below for the sellers' incentives.
Dream Home proceeds benefit Duchesne's operating budget. Ticket sales continue through April 21, 2023 when the winning entries will be drawn on Friday, April 28, 2023.
Thank you for your support of this year's Dream Home Raffle. For more information or to purchase a Dream Home ticket over the phone, please contact the Office of Advancement following January 30, 2023 at (636) 946-2603 or dreamhome@duchesne-hs.org
Thank you to Fischer & Frichtel for sponsoring our 2023 Dream Home Raffle!
We appreciate your support!