Reunions
If your class reunion date is approaching, please contact the Office of Advancement at (636) 946-2603 or e-mail alumni@duchesne-hs.org to get started. For more information on planning your reunion, please click on the Tips and Venues links in the left sidebar.
UPCOMING REUNIONS
Class of 1959 60th Reunion
Please save the date and plan to join us for our 60-year class reunion on Saturday, September 7, 2019, from 1:00-5:00 p.m. in the Duchesne Library at 310 N. Duchesne Drive. Cost will be $25 per person. A light buffet will be served. Further details will follow, but if you have questions in the meantime, please contact: Vince Luetkenhaus at vinsharlue@gmail.com, Roger Ringhausen at engineergolfer1942@att.net, or Marva Lee (Willbrand) Prinster at 636-272-0652.
_________________________
Class of 1969 50th Reunion
The Duchesne Class of 1969 will be holding their 50th Class Reunion on Saturday, September 28, 2019. We will begin with Mass at 4:30 pm in the DHS Chapel, followed by a tour of the school. A party at Pio's Restaurant will begin at 6:30 pm. Join us in the upstairs banquet room. (An elevator is available.)

Other weekend activities include:
Friday night -- DHS football game at 7:00 pm, followed by a reception at the KC Hall.
Saturday morning -- choose between golf at St. Peters Golf Club beginning at 9:00 am, or a 2-mile MS Charity Walk on the Katy Trail beginning at 10:00 am.
For more information please contact Sandy (Rasipovits) Dalton at sdalton51@yahoo.com or 248-736-0536.

_________________________
Class of 1974 45th Reunion
The Duchesne Class of 1974 is celebrating their 45th Class Reunion on Saturday, October 5, 2019, from 7:00-11:00 pm at Tubby's Pub & Grub, 506 Droste Rd in St. Charles. Tickets are $20 per person in advance and $30 per person at the door. Make check payable to Matt Borgmeyer and mail to him at 72 Par Drive, St. Charles, MO 63303. Cash Bar / Casual Attire

Like us on Facebook at Duchesne Class of 1974.
REUNIONS RECENTLY CELEBRATED
10-Year Girls Soccer State Championship Reunion
Thanks to our unofficial official school photographer Mike Schoen for capturing this great group photo -- our 2009 state championship soccer team together with the 2019 team, which became this year's state champions. The teams were together on April 2, 2019, when 2009 team members came back to Duchesne to be recognized and celebrated. Alumni members of the 2009 team include Rachel Baronovic, Nikki Birr, Tori Champagne, Meghan Elmendorf, Natalie Henson, Allison Hu, Amanda Hubble, Catie Josten, Lauren Josten, Kelli Knobbe, Alex Morris, Stephanie Mullen, Kaylee O'Toole, Alli Reimer, Amber Riley, Ashley Riley, Sarah Skaggs, Emma Walker, and Coach Kurt Clodius and Coach Dave Thurmer.


_________________________
35-Year Baseball State Championship Reunion
We had a great night celebrating the 1984 State Baseball Champs at Blanchette Park on Wednesday, April 10, 2019. Such a nice evening reminiscing with players, coaches, and families. Thanks to all who came out to join the festivities and honor these alumni. (See the group's 1984 and 2019 team photos below!)

Varsity members of that championship team included Ken Allman, Jeff Goetges, Chuck Johnson, Ken Kleeschulte, Tom Leach, Tom Luetkenhaus, Paul Niggemeier, Ron Reimer, Bert Renken, Bobby Schneider, Mike Schulte, Dan Simon, Kenny Struckhoff, Mike Taylor, Doug Weber, Darin Westhues, Dan Winston, and Coach Ted Yeater.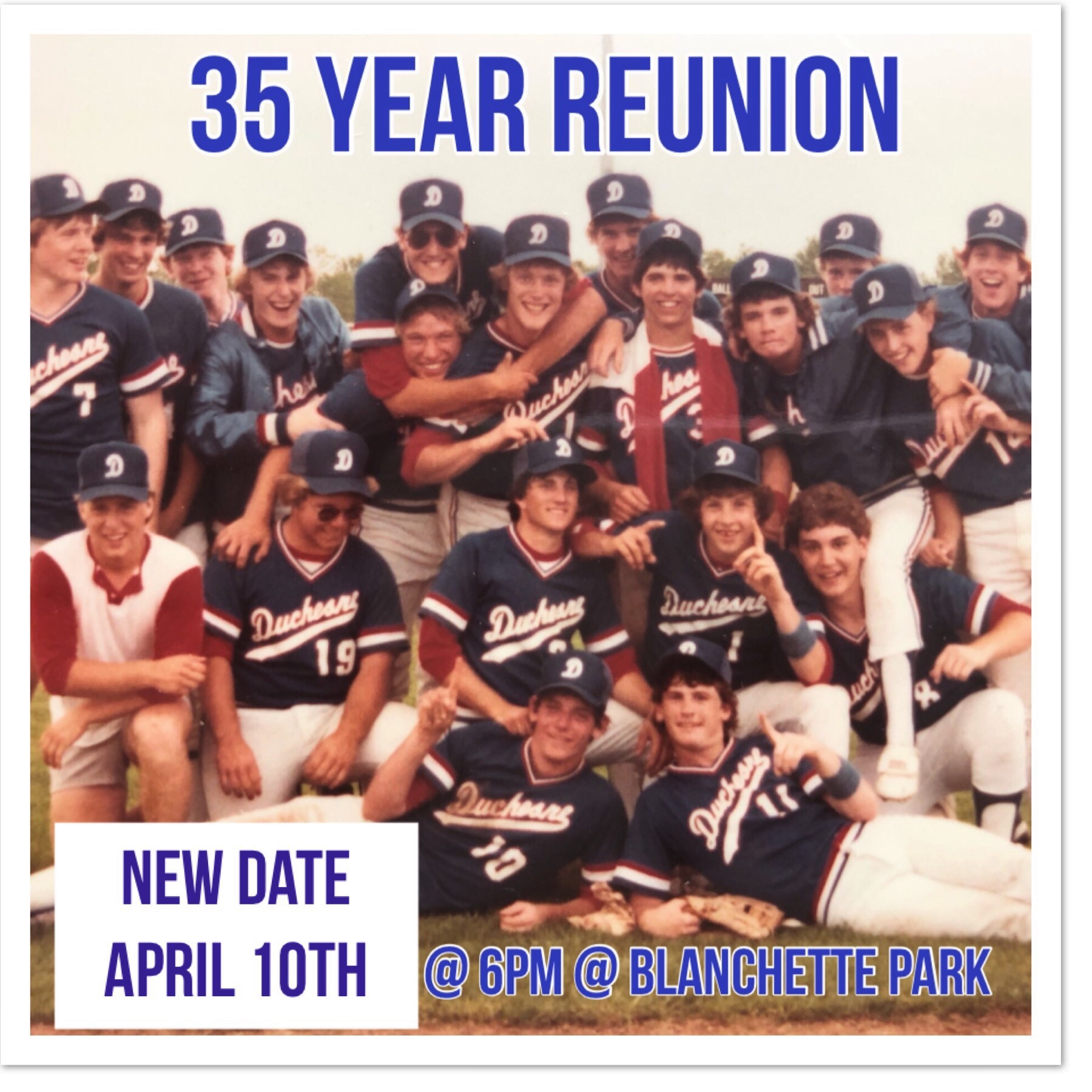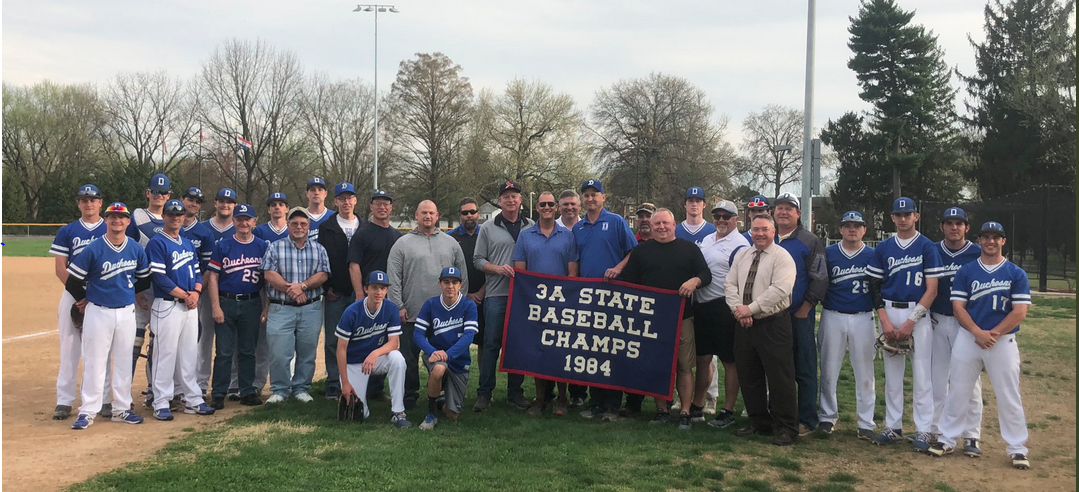 _________________________
2003 Boys State Championship Soccer Team
The 15th anniversary of our 2003 Boys State Championship Soccer Team was celebrated on Saturday, October 20, 2018, at halftime during the varsity game vs. St. Dominic. Members of that varsity team included Rob Baker, Matt Brennan, Mike Brown, Brent Dwerlkotte, John Flynn, Jason Gertken, Zach Gorla, Pat Helfrich, Nick Hess, Andy Komoroski, Matt Lamb, Scott Lowder, Daniel Lueders, Jack Mahon, Matt McCarthy, Chris Meyer, Kyle Parker, Matt Pestka, Mark Pohlman, Dave Stitz, Daniel Tucker, Patrick Turner, Kelley Wilkinson,
and Kristin Thurmer, Coach Kurt Clodius, and Coach Dave Thurmer.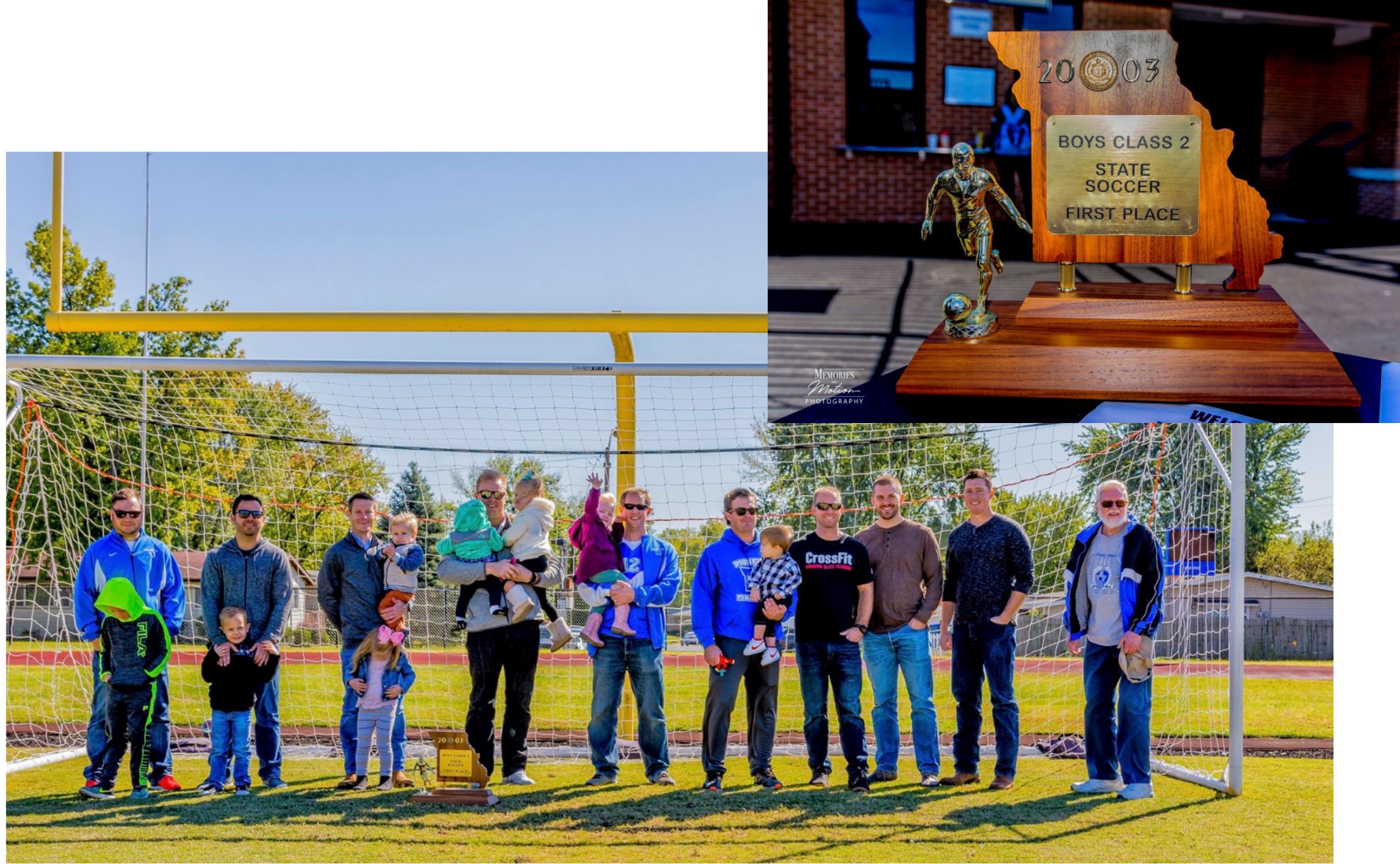 _________________________
Class of 1978

The Class of 1978 gathered at the Knights of Columbus Hall in St. Charles on the evening of Saturday, October 13, 2018. A terrific turnout resulted from the efforts of a robust committee headed by Bill Elmendorf and Tim Hollander. Many thanks to the whole team!

Those in attendance included: (front row) Rich Pohl, Bart Schmidt, Theresa (Lynch) Ruzicka, Bonnie (Kuehler) Getzinger, Karen (Knoblauch) Neylon, Carol (Fischer) Johnson, Bill Elmendorf, Mary (Wucher) Hubbarb, Rita (Buchheit) Waldman, Sheri (Korrinhizer) Schulte, Brad Schneider, Joe Glosier, Sally (Pieper) Glosier, Rose (Johannesman) Hill, Janet (Renaud) Miller; (middle row) Cathy (Rauch) Healy, Beth (Boschert) Duello, Diane (Sommer) Lange, Nancy (Rothermich) Kohl, Candy (Suchman) Romeo, Mike Mossberger, Marietta (Burmeister) Greene, Chuck Boswell, Rita (Boschert) Nelson, Sue (Fenning) Chambers, Nancy (Abeling) Malin, Kathy (Work) Randazzo, Laurie (Beck) Slattery, Wanda (Niere) Bax, Stephanie (Hollaway) Burks, Chris (Feuerstein) Ryan, Don Hammond, Tim Hollander; (back row) Dan Felder, Bob Suter, Keith Schneider, Mike Schneider, Vince Schneider, Alan Rothermich, Jane (Henning) Baum, Mike Shea, Duane Hercules, Jeff Hagen, Edie (Niggemeier) Hollander, Tony Chambers, Jim Davis, Jim Willbrand, Wendy (Olendorff) Wilkerson; (not pictured) Mary (Baker) Banmiller, Kevin Cullinan, Leo Geringer, Linda (Drees) Gerringer.

To commemorate their 40-year reunion, the Class of 1978 is making a group-funded gift to Duchesne for tuition assistance. "With our common bond as alumni of DHS, we have all benefited from our education received, faith formation developed, and friendships made. We were supported by the donors who went before us, so let's continue the tradition by contributing to help Duchesne's current and future students," said Bill Elmendorf, class vice president. To date, $3,450 has been donated toward this class gift.
_________________________
Class of 1958
The Class of 1958 enjoyed a luncheon in the DHS Library on Saturday, October 6, 2018. Many thanks to classmate Bonnie Beall for both organizing the event and making all of the food!!
Those in attendance included: (front row) Bonnie (Rufkahr) Beall, Marva (Hines) Phillips, Gail (Kennedy) King, Katie (Gray) Tiesing, Barb (Slattery) Goodnick, Barb (Bredensteiner) Hollander, Rose (Koester) Ratliff, and Don Schappe; (back row) Ellsworth Goetges, Bob Schneider, Mary Lou (Pohlman) Hackmann, Dave Lammert, Donna (Pohlmann) Moreno, Tom Zeisler, Jim Hare, Margie (Gittemeier) Kolb, John Witte, Deanna (King) Fricke, Shirley (Schneider) Noel, Jane Voigt-Coates, Tom Briscoe, Janice (Kirchner) Ohmes, Pat (Sweeny) Metz, Cliff Eiae, Joyce (Tihen) Fussner, Rosalee (Boschert) Echele, Alice (Ohlms) Rothermich, and Judy (Bextermiller) Carlson.
Those in attendance but not pictured: Ken Artcras, Larry Oetker, and Tom Zerjav.
Classmates who are deceased include: Mary Ann (Machens) Beilsmith, Shirley (Mittelbuscher) Brazil, James Debrecht, Patricia (Mersch) Dellinger, Robert Dohogne, Barbara (Kohlenhoefer) Lloyd, Richard March, James Power, Patricia (Montgomery) Shangraw, Louis Spalding, and Ronald Suttmoller. Rest in peace.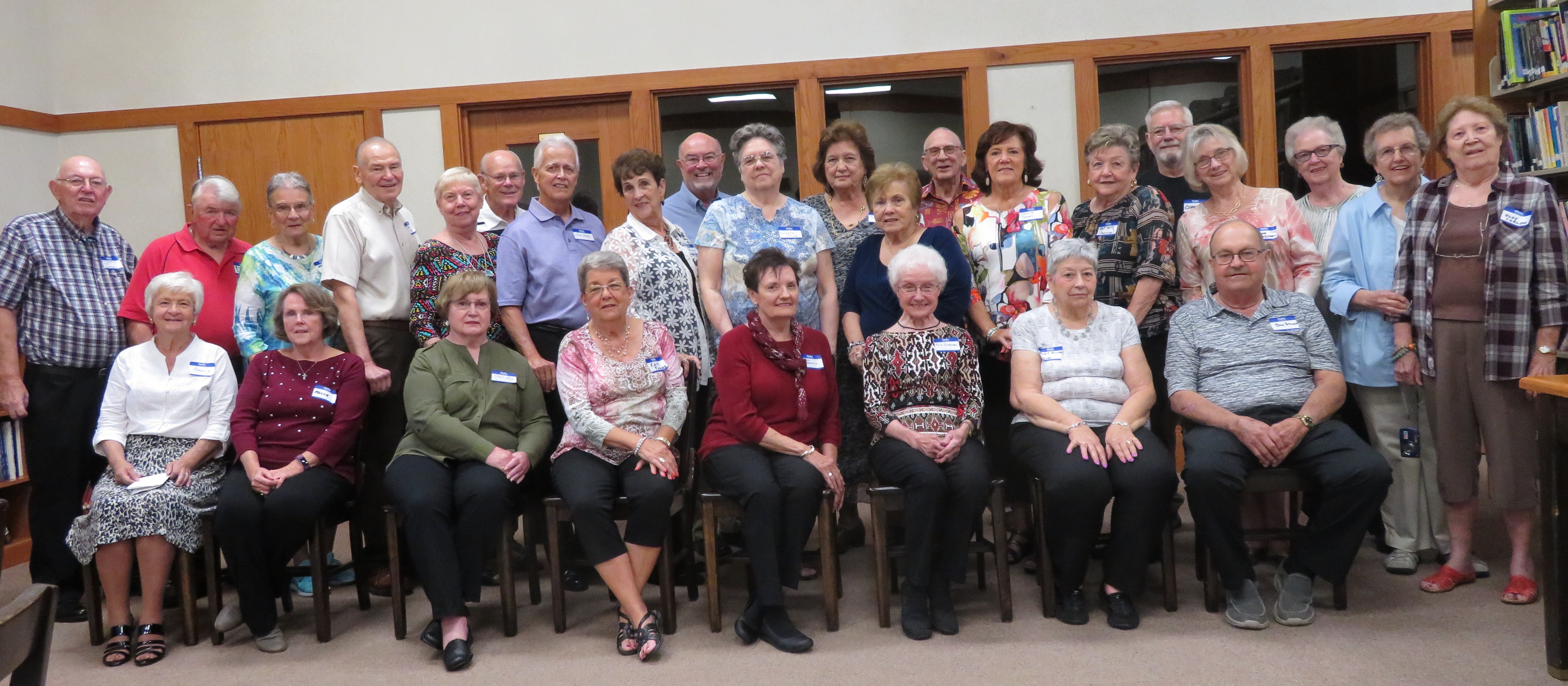 _________________________
Class of 1973
The Class of 1973's reunion on Saturday, September 22, 2018, began with a Mass celebrated by Fr. Tom Santen (right). The classmates then enjoyed a wonderful evening together in Duchesne's PAC, which was beautifully decorated by the amazing reunion committee. Thanks for all your great work, Team '73. Thanks to all who came out to join in the fun!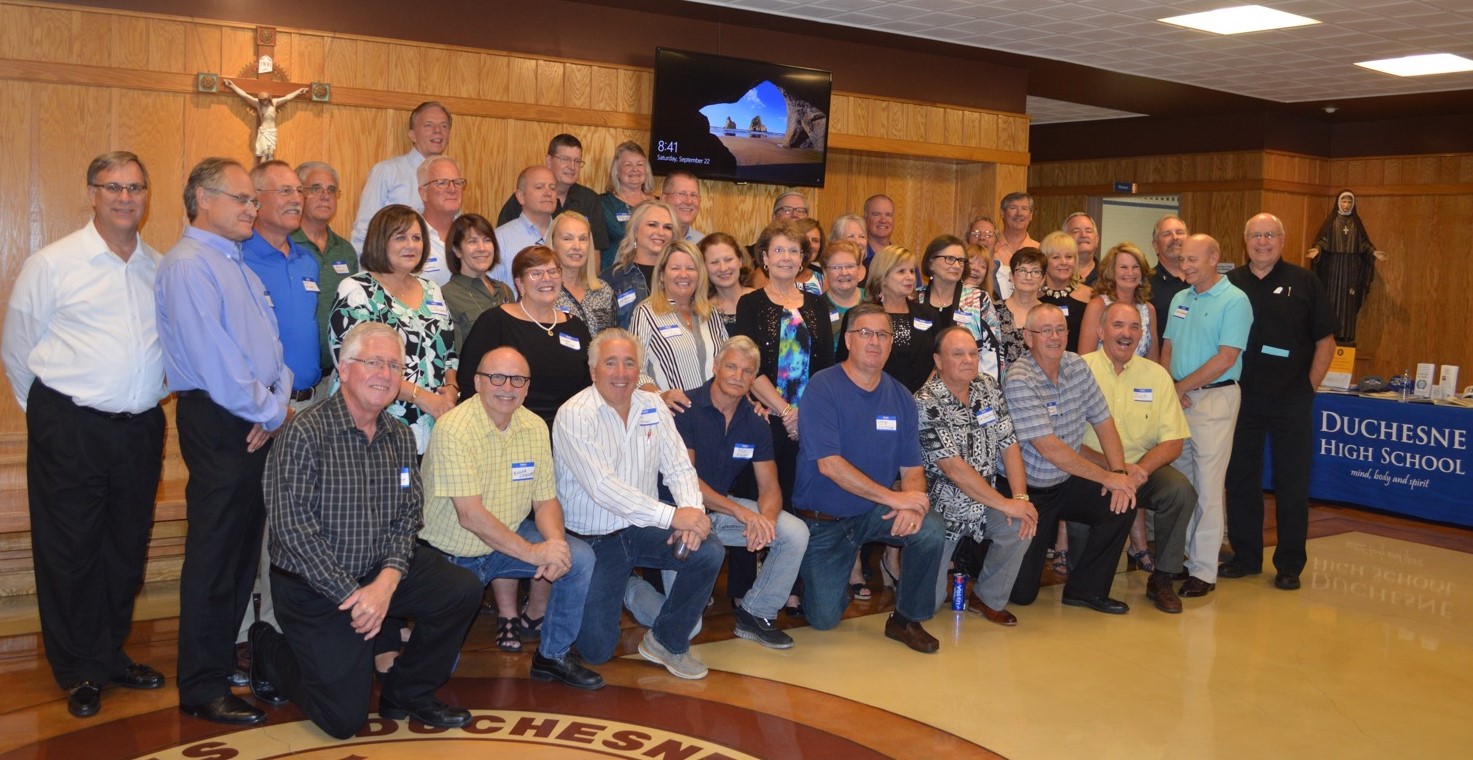 _________________________
Class of 1998
The Class of 1998 had a surprise visitor at their 20th reunion, held at the Grand Opera House on Main Street in St. Charles on Saturday, September 15, 2018, where they enjoyed a signature drink called "Pioneer Pride," appetizers from Tony's on Main Street, and dessert from Grandma's Cookies. Each guest took home a DHS coozie and a photo strip of their class pictures from freshman to senior year. Andrea (Ledwon) Covilli did a beautiful job planning the event, which attracted alumni from as far away as Seattle [Stephanie (Brennan) Fox], New York [Hugo Takacs], and Florida [Tina (Thomure) Blanco].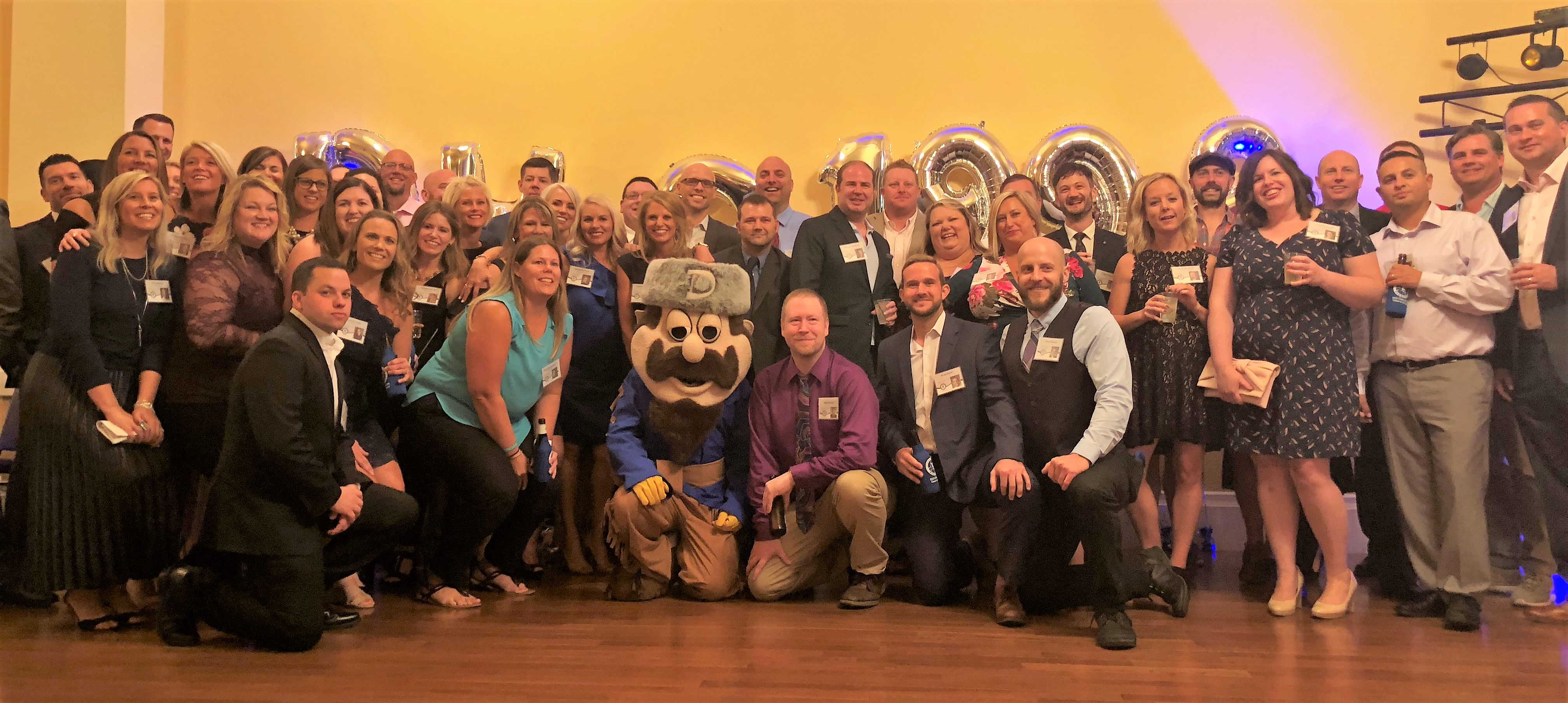 _________________________
Class 1988
Many thanks to Pat McDonnell for all of his time and efforts in planning the Class of 1988's 30th reunion, which was held in Duchesne's PAC on Saturday, August 18, 2018. Pat planned a great party, complete with a DJ, photo booth, school tour, Trading Post display, great food, and even better company!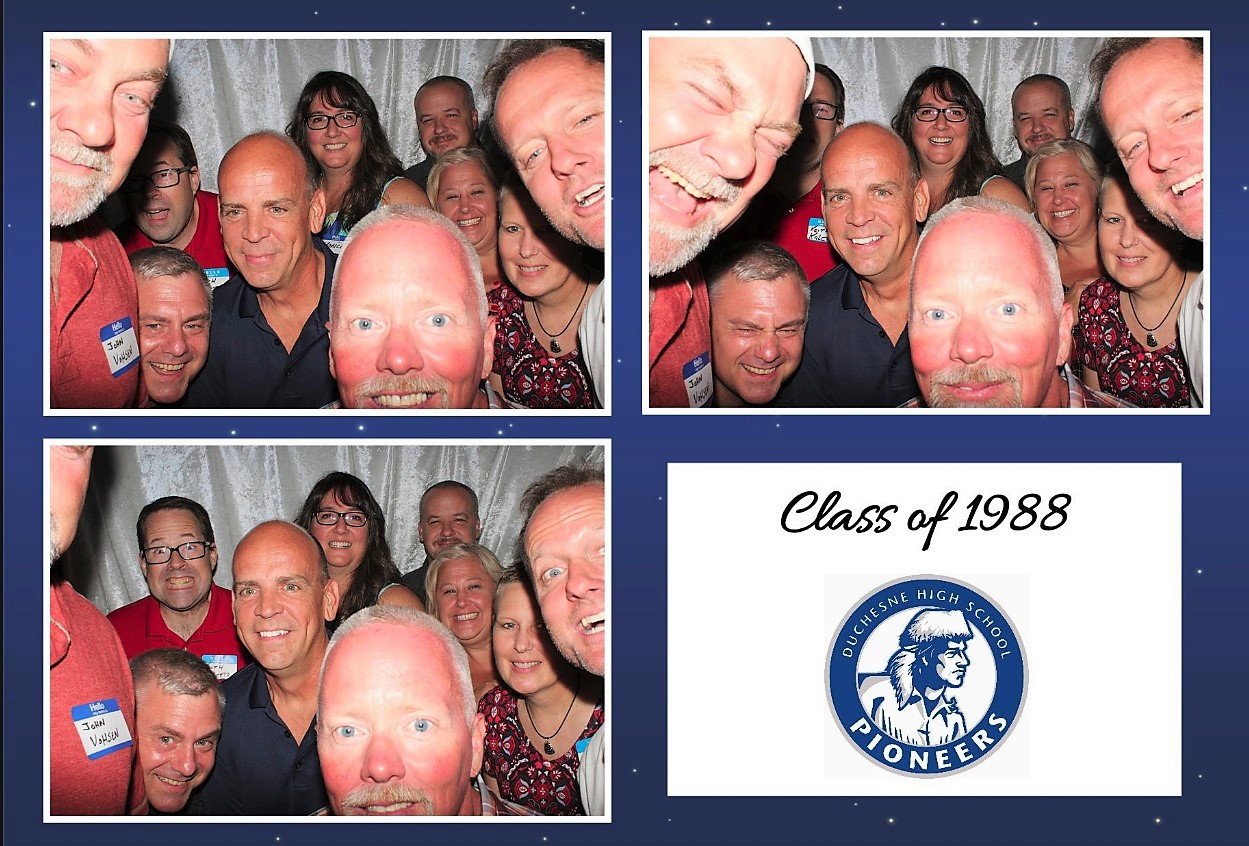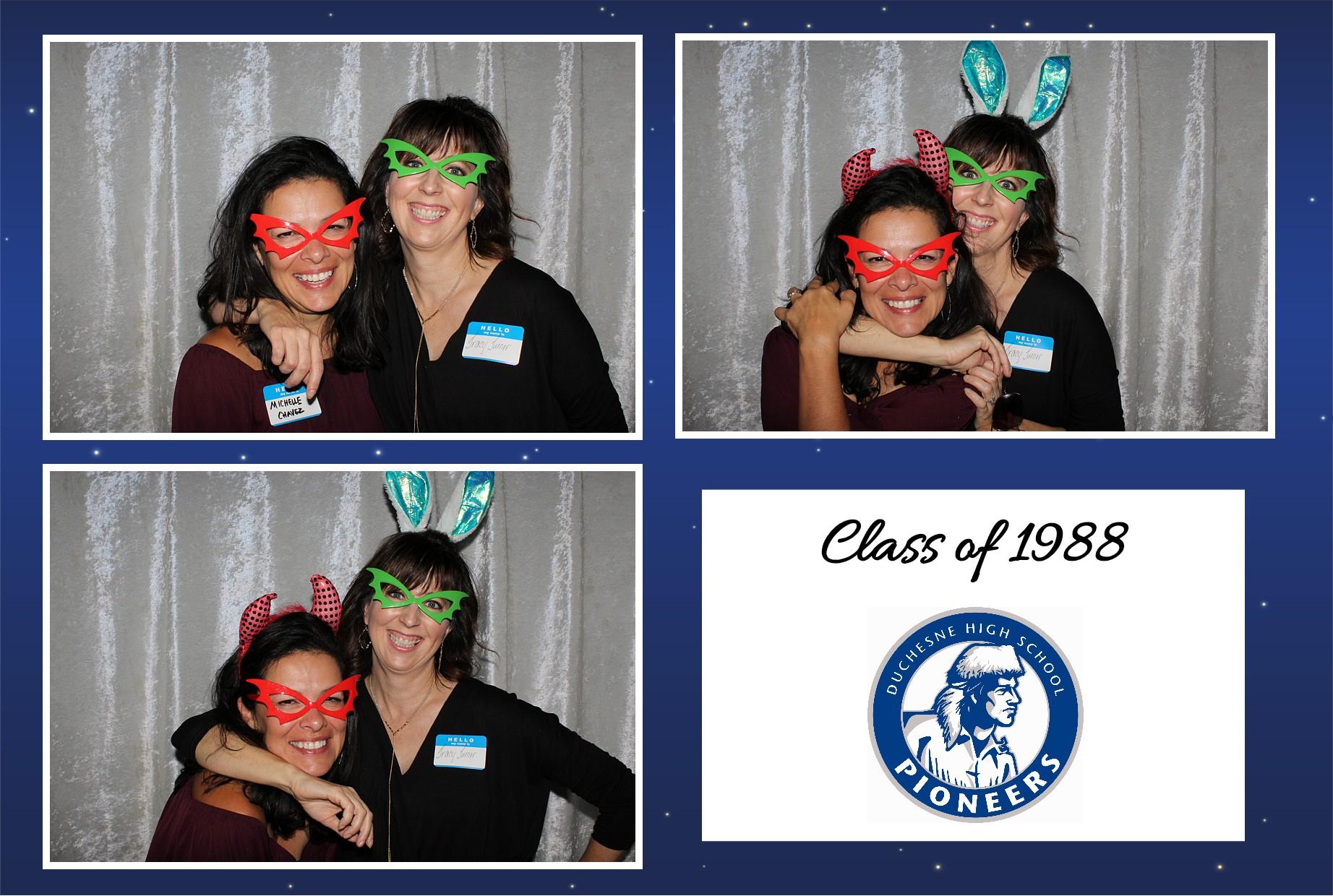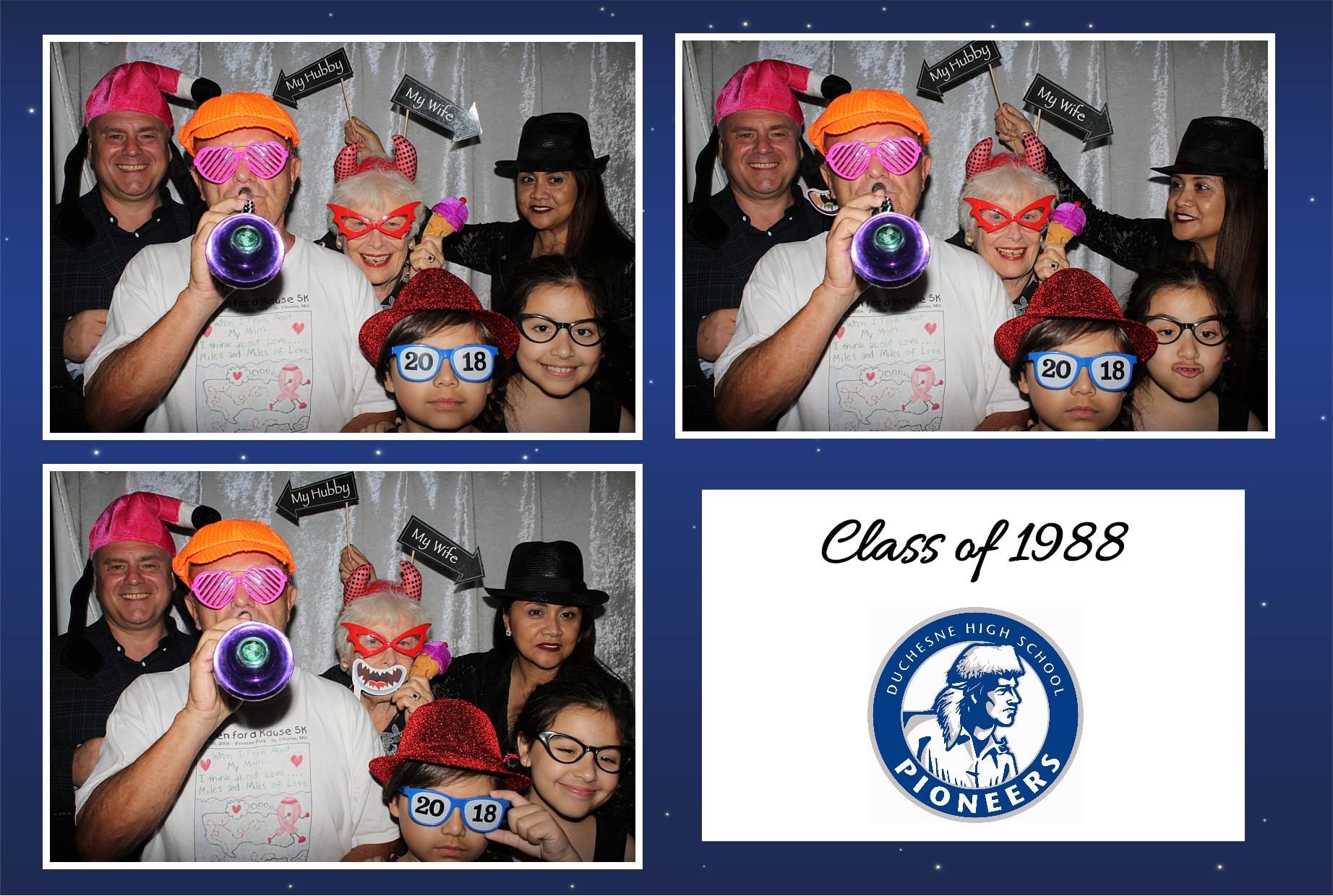 (Pat's family helped to test out the photo booth)
_________________________
Class of 1968
The Class of 1968 had a great time and a great turnout at their 50th reunion on Saturday, August 11, 2018. In fact, they had so much fun that they forgot to get an official reunion photo of all in attendance.* Thank you to the many alumni who contributed their time and talents in planning the party!
*Some classmates attended a pre-reunion warm-up on Friday night at the "(Bob) Boschertown Beach Bar & Grill," where party pics included the following: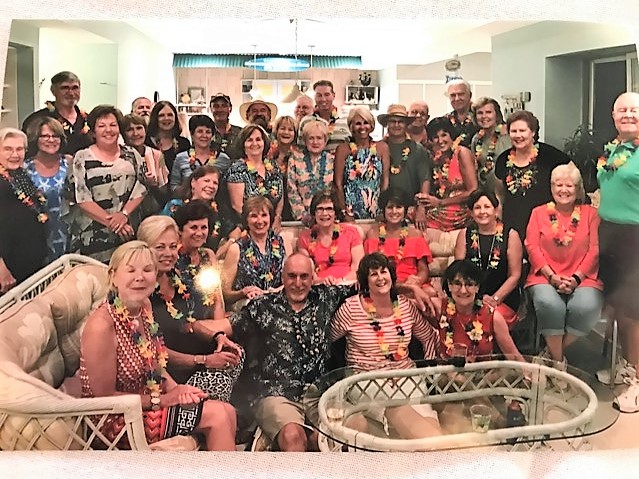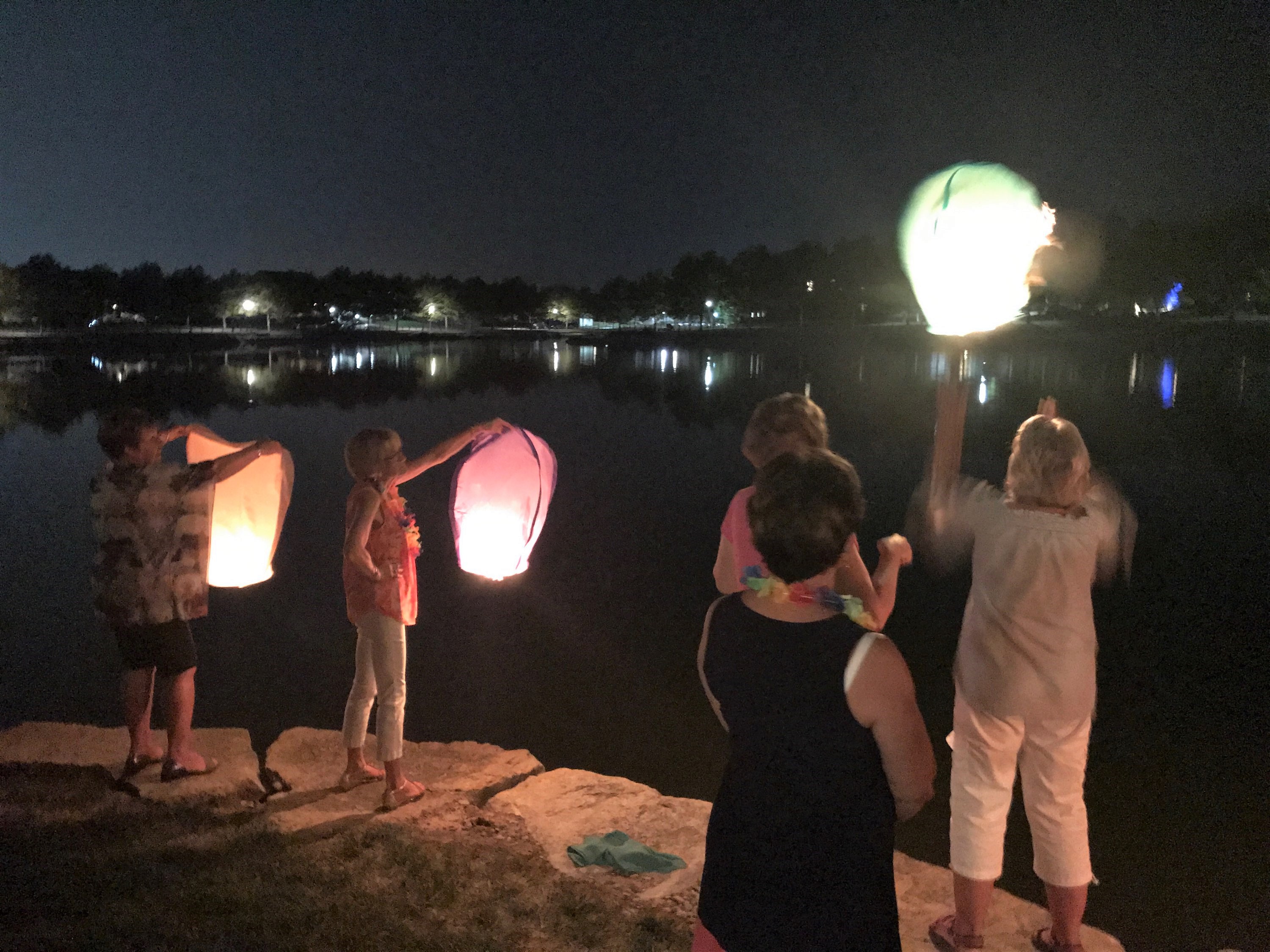 Tribute lanterns were released in memory of the Class of 1968's 14 classmates who have passed away.
_________________________
Class of 1972
The Class of 1972 celebrated their 45th Reunion on Saturday, April 7, 2018, at DHS --with Mass said by Msgr. Bob Gettinger, followed by a school tour, followed by a warm and wonderful evening together in the PAC (aka "the old gym"). Thanks to the committee of Joyce (Stahlschmidt) Berkowitz, Cathy (Wucher) Boschert, Tim Genz, Margie (Cook) Russell, Mary (Shea) Stephens, and Mary (Abeling) and Tom Thoele for all of their time and efforts in putting this together!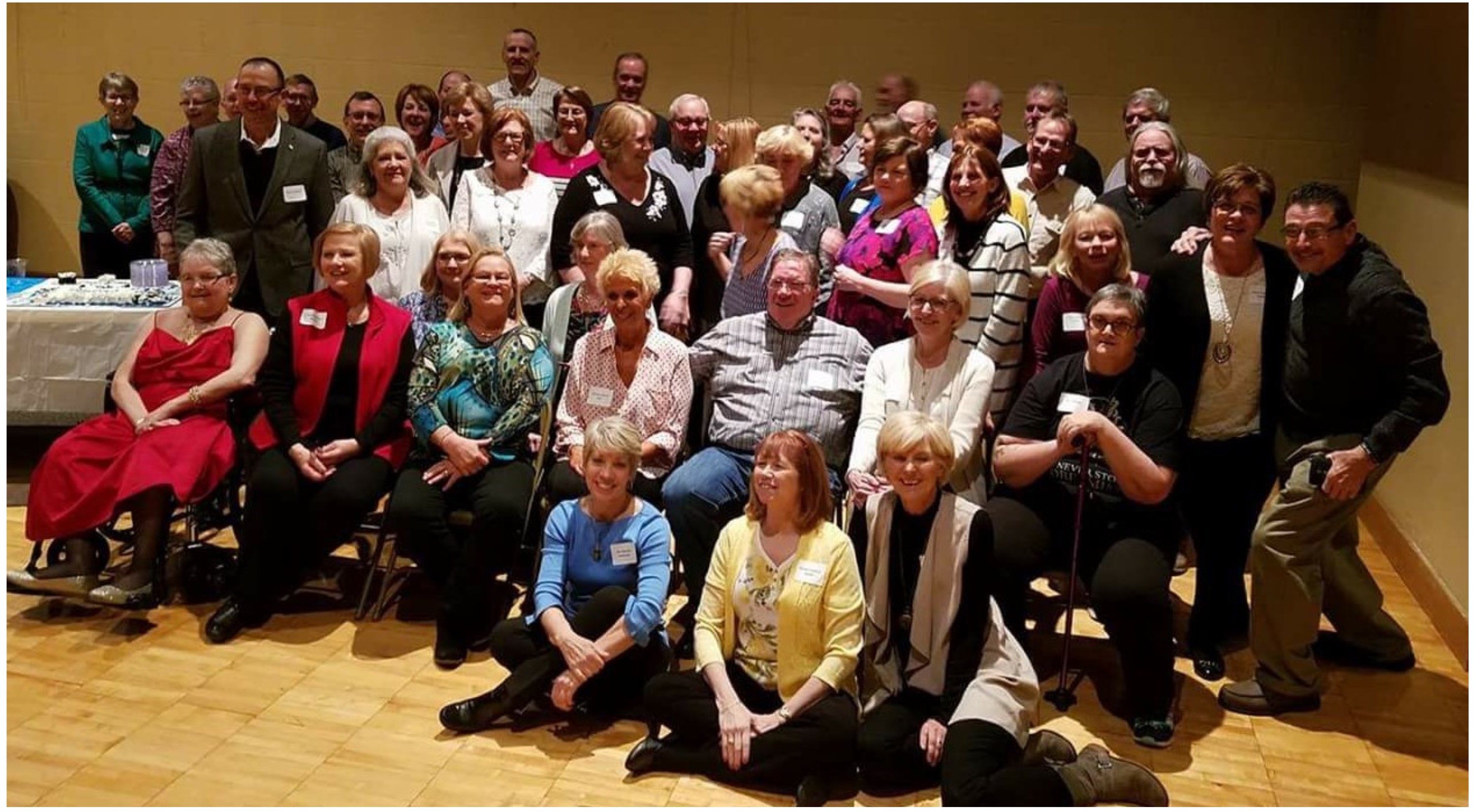 _________________________
Class of 1957
The Class of 1957 had a good showing at their 60th reunion afternoon gathering on Wednesday, October 4, 2017. The group met at the 28/65 Brewhouse in St. Charles. Richard Fetch came the farthest distance; he traveled from San Antonio, TX. Marlene (Wussler) Anderson in California and Carol (Zerjav) Ingraham in Washington state were there in spirit even though they weren't able to get back to St. Charles.

FRONT ROW: Judy Conoyer, Richard Fetsch, Marie (Weber) Schulte, Carolyn (Behlmann) Collard, Lillian (Muenks) Johnson, Dorothy (Kennedy) Fischbach, Dorothy (Hollander) Bizelli, Rita (White) Owens, JoAnne (Lammert) Ruther, Bill Westhoff. SECOND ROW: Wayne Schmidt, Elizabeth (Kaveler) Kriesmann, Eleanor (Thomason) Denton, Mary Weis, Joan (Gittemeier) Lammers. BACK ROW: Don Potts, Mary Francis (Boschert) Knobbe, Carol (Sommer) Spilker, Juanita (Stepp) Brush, Evelyn (Oetker) Philipps, Gerard Jaspering, Tom Goodnick. NOT PICTURED: Jeanette (Boschert) Brunstein and Priscilla (Cordes) Vanderbos.
_________________________

50 Years of Football Anniversary Celebration

Thank you to head football coach Charlie Elmendorf '76 for planning a wonderful weekend celebration of Duchesne's 50 years of football on the weekend of September 29-30, 2017. Pregame festivities included a BBQ hosted by the Duchesne Athletic Boosters. As many as 75 captains joined in the coin toss before Friday night's game, which was a winner over Christian HS of O'Fallon. At halftime, about 2,500 people welcomed 300 former DHS football players as they were introduced by season year, starting with Don Schultehenrich '68, our first graduate to play the game at Duchesne.
Generations of families relished in the tradition and relived great memories. Saturday night saw 175 members of our Pioneer family sharing a traditional football team steak dinner at St. Peter Parish Hall, where a wall full of tables displayed memorabilia, statistics, records, scrap books, championship awards, and photos. Betty Elmendorf's football quilt was on display. Mike Schoen took photos both evenings: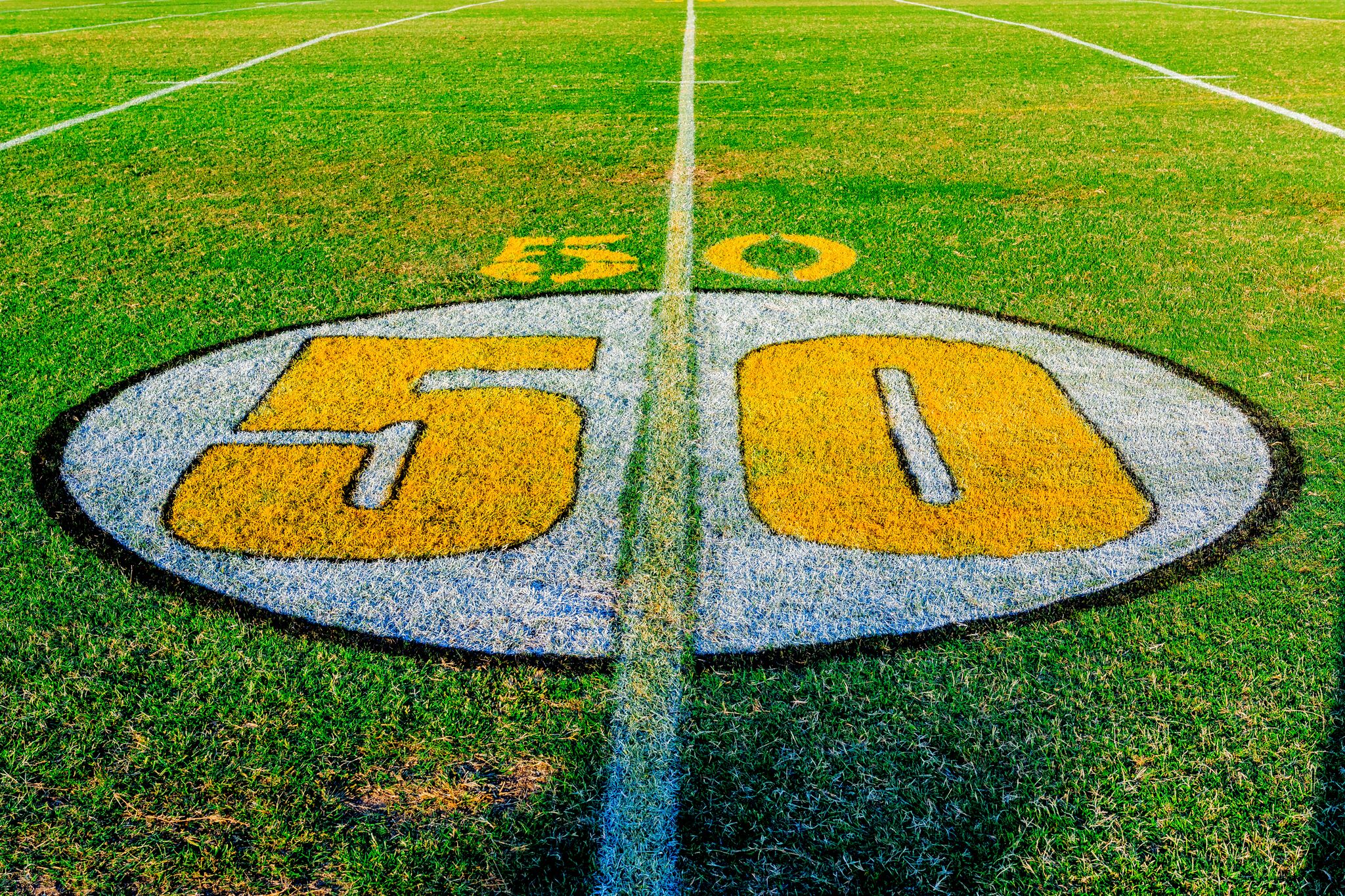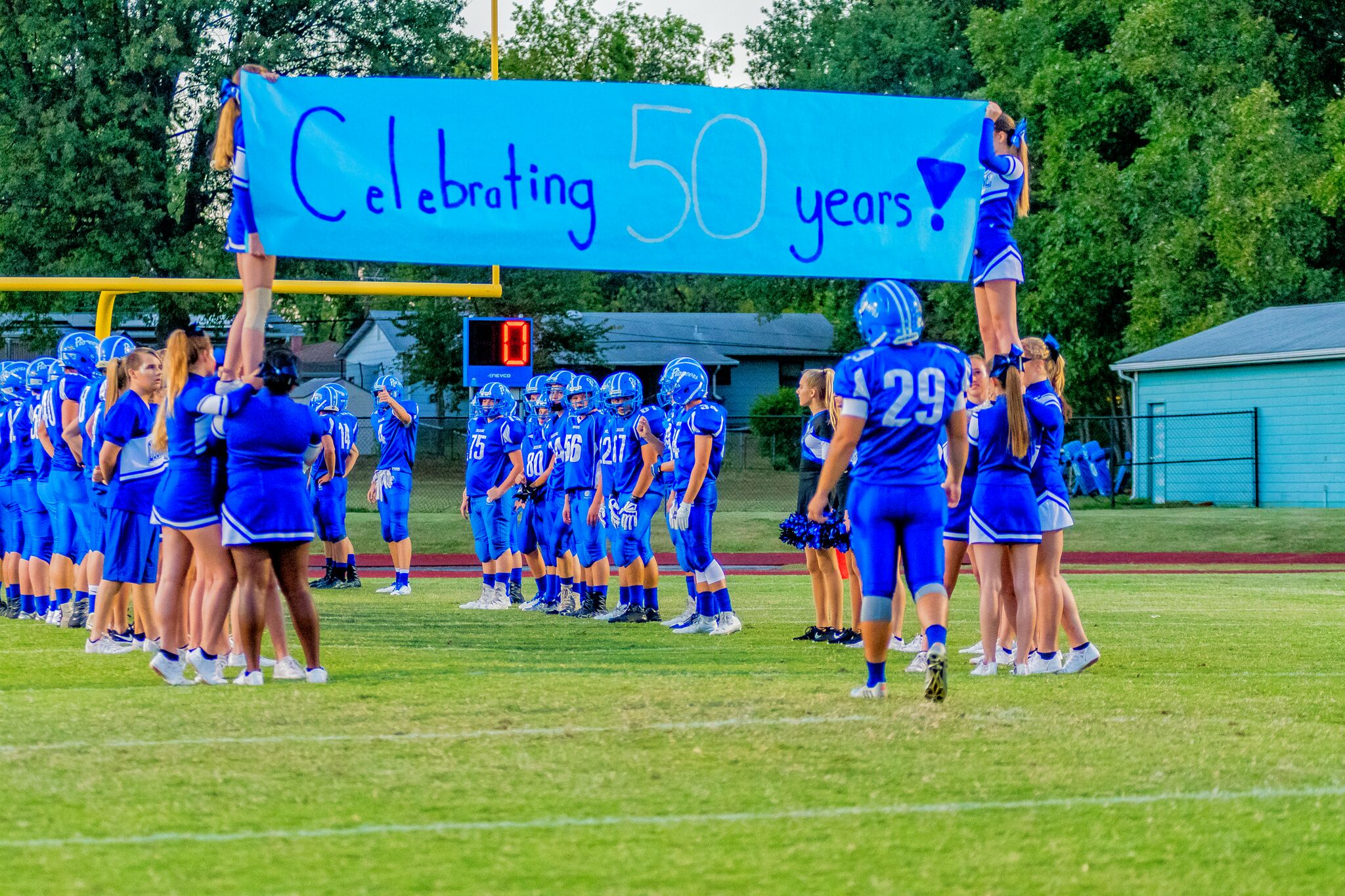 _________________________
Class of 1977
The Class of 1977 had a hardy group at Duchesne's 50th anniversary football game on Friday, September 29, 2017. On Saturday, September 30, 50 classmates gathered at the Knights of Columbus Hall in St. Charles for a 40th reunion party.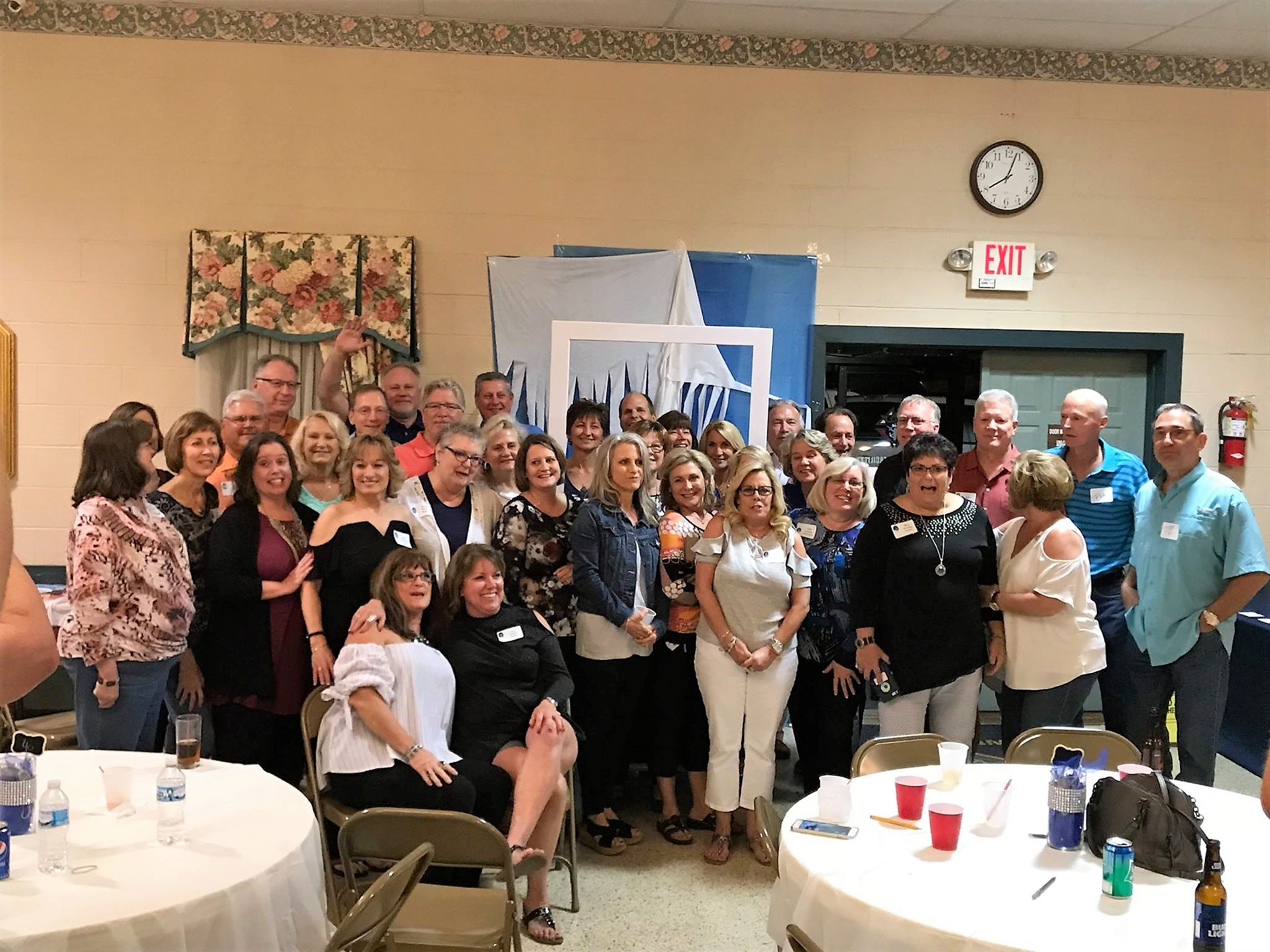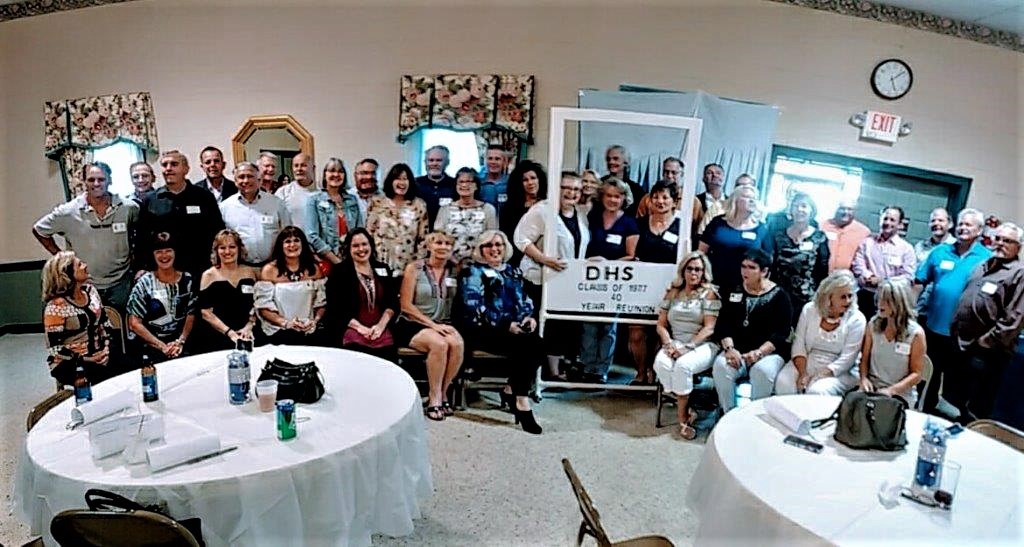 _________________________
Class of 1967
The Class of 1967's "That Was Then and This Is Now" themed 50-year celebration was held on Saturday, September 16, 2017, at the Knights of Columbus Hall in St. Charles. A good time was had by all as they enjoyed a dinner menu featuring local restaurant favorites from 1967, starting off with Noah's Ark Clam Chowder and finishing with a dessert of DQ Dilly Bars. A trivia contest was presented consisting of highlights from the 1967 Cor Duchesne yearbook and locations of businesses now and then. It was a thoroughly enjoyable evening!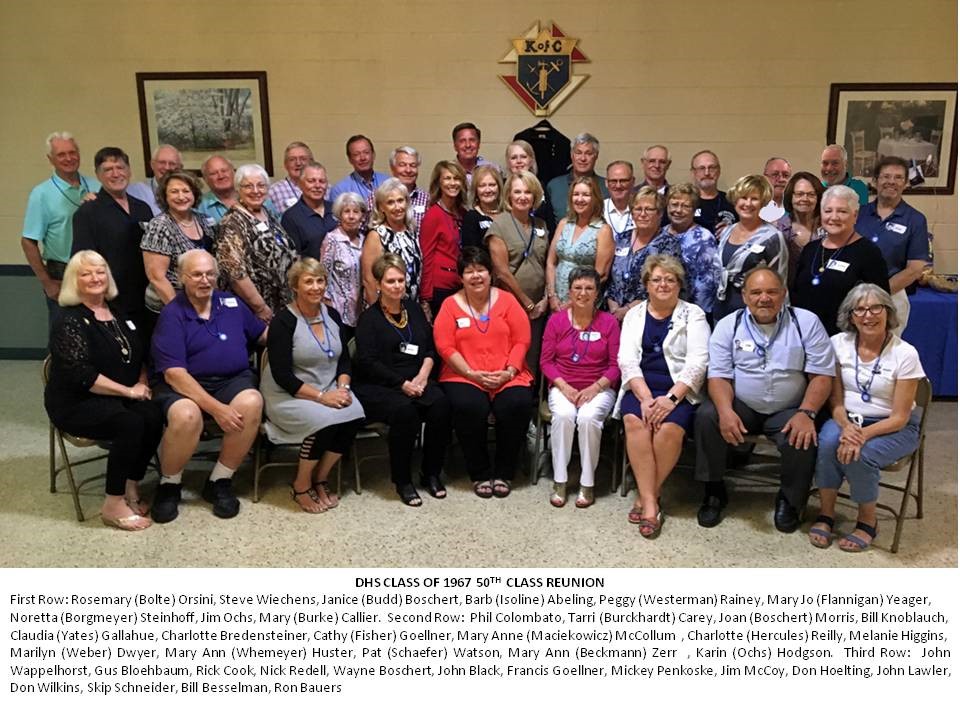 ____________________

Class of 1997

The Class of 1997 had their 20th anniversary reunion on Saturday, August 26, 2017, at the Grande Opera House on Main Street in St. Charles. Thanks to everyone who came out to join us!