Board of Directors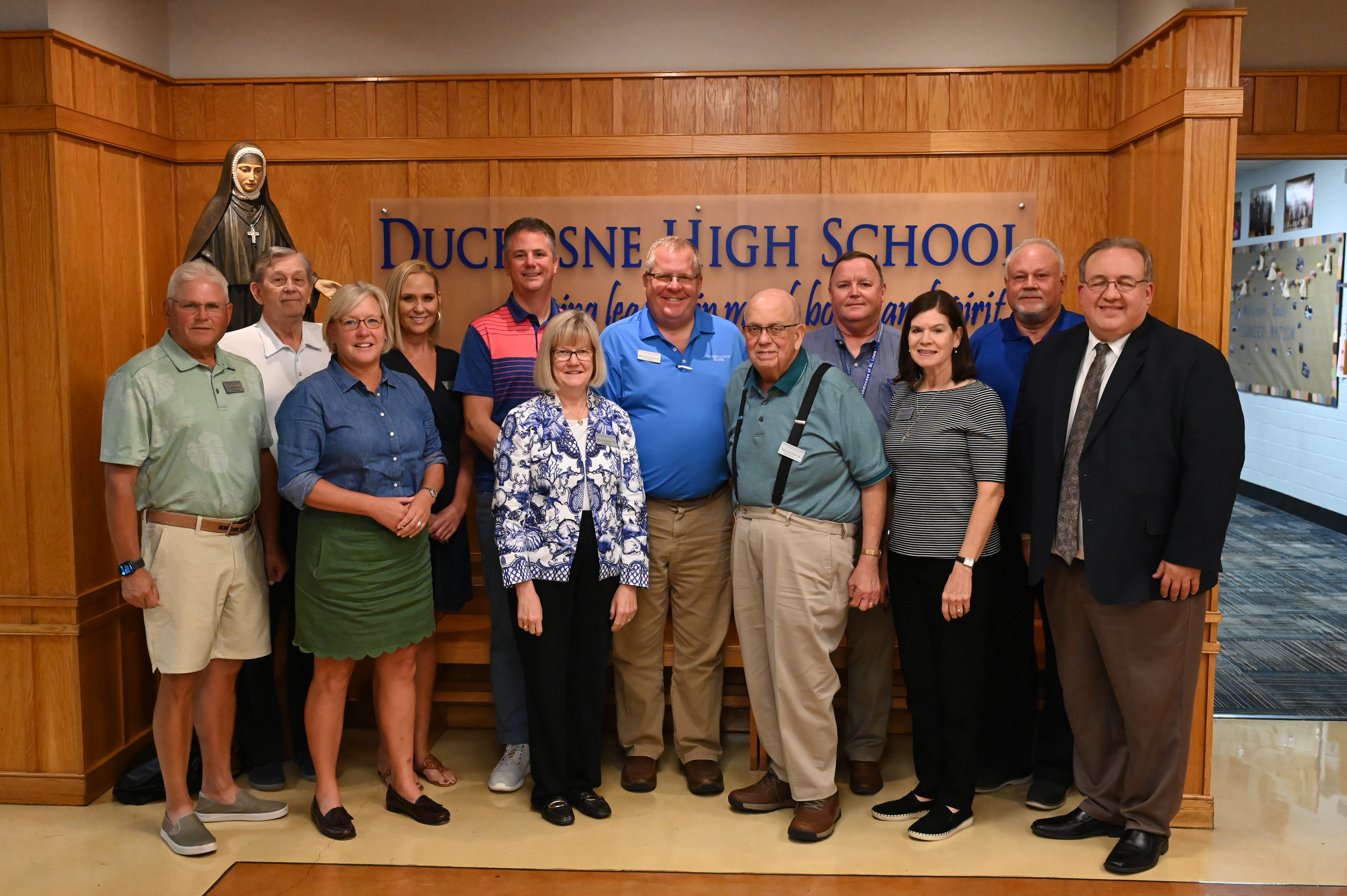 From left: Dave Romeo '77; Fred Wilke '66; Susan Noonan, Duchesne High School President; Dana Buckner; Jack Borgmeyer '97; Ann (Johannesman) Tollefson '76; Matt Johannesman '85; Terry Gravemann '68; Mike Duffy, Director of Finance and Operations, Archdiocese of St. Louis Office of Catholic Education and Formation; Theresa (Lynch) Ruzicka '78; Mike Ryan '77; and Todd Sweda, Superintendent for Secondary Catholic Education, Archdiocese of St. Louis Office of Catholic Education and Formation. Not pictured: Dan Plackemeier '76
Jack Borgmeyer is a 1997 graduate of Duchesne High School. His wife, Anita, is a 1997 graduate as well. After DHS, Jack attended Missouri State University, and is currently president of the Borgmeyer Marketing Group, a nationwide creative and digital marketing firm.

Jack is heavily engaged in his community. He co-founded St. Charles Goodfellas, a non-profit organization that raises money and awareness for children's charities in St. Charles, Lincoln, and Warren counties. Jack is also a current board member with Missouri KIDS.

Jack has been awarded the Missouri Jaycees' Outstanding Young Missourian Award and Community Living's Volunteer of the Year. Jack and his family are members of St. Elizabeth Ann Seton Parish.

Dana Buckner has been a member of the Duchesne community for the last four years. She is vice president of the Pioneer Parent Association and is a part of the Athletic Boosters Executive Team, with responsibility for membership management. She is also the governance chair for the Strategic Planning Steering Committee and is active in fundraising support for the Diamondline Dance Team.

Dana is a member of St. Peter Catholic Church and lives in St. Charles with her husband Jason and two daughters, Ava and Alana. Ava is a senior at Duchesne High School and is a student ambassador, a member of Drexel Leadership, and captain of the Diamondline Dance Team. Alana, a future Pioneer, is an eighth-grade student at Seton Regional Catholic School.

Dana is employed by Optum Insight within UnitedHealth Group and has worked in healthcare technology for over 20 years, leading operations and program management teams.

Dana is encouraged by the focused efforts and positive changes taking place, and confident these efforts will allow Duchesne to grow and thrive in our community.

Terry Gravemann is a 1968 graduate of Duchesne High School. Terry returned to teach at Duchesne after earning his bachelor's in social studies education in 1972 from Truman University. Later, Terry earned his master's in secondary school administration from the University of Missouri – St. Louis.

Terry spent his entire professional career at DHS as a teacher, dean of students, and president. Terry is active in many community organizations and is a member of St. Cletus parish. Terry and his wife Jo Ann (DHS class of 1972) have been married since 1980.

Matthew J. Johannesman is a 1985 graduate of Duchesne High School. Matt then earned a BSBA in finance/economics in 1989.

Matt is married and the father of two: Will (15) and Gabby (13). He has been the community president of Carrollton Bank since 2004.

Matt's life is rich in community spirit. He serves on St. Peter's Finance Committee, the St. Charles Kiwanis Club, St. Charles Road Board, Knights of Columbus, St. Charles Chamber of Commerce, St. Charles Audit Committee, Birthright, St. Charles County Housing Corporation, and the Academy of the Sacred Heart Board.

Dan Plackemeier is a 1976 graduate of Duchesne High School. Dan then played baseball and football at Central Missouri State University, earning a bachelor's degree in business administration.

Dan has been married to Dawn (DHS class of 1977) for 43 years, and their three children are Duchesne graduates. He built a successful business called St. Charles Decorating Center.

Dan has been involved with St. Cletus Church, Boy's and Girl's Club, St. Charles Junior Baseball/Softball Association, and many other organizations.

Theresa (Lynch) Ruzicka is a 1978 graduate of Duchesne. Theresa went on to earn a BSBA from Southeast Missouri State, an MBA from Washington University, and CPA license. Most recently, Theresa spent 8 years as the president of Catholic Charities of the Archdiocese of St. Louis, retiring in the summer of 2022. Before this, Theresa was a partner at RubinBrown and held leadership positions at the Olin School of Business at Washington University, Ernst and Young, and other entrepreneurial ventures. Theresa has been an active member of the community with serving two terms on the Creve Coeur City Council, member of the Legatus, Our Lady of the Pillar Parish Council, and involvement with other organizations. In 2017, Theresa received the Most Influential Women in Business award from St. Louis Business Journal, and in 2019 she was selected for the YMCA's 2019 Academy of Leaders.

Dave Romeo is a 1977 graduate of Duchesne High School. His wife, Candy, is a 1978 graduate.

Dave earned a bachelor's in accounting from Northeast Missouri State. He later served SquareD/Schneider North America for 17 years providing progressive leadership roles in finance, operations, sales, and marketing. Dave spent over 20 years leading and growing Building Products Businesses as president/CEO.

Dave and his family are members of St. Cletus Catholic Church.

Mike Ryan graduated from Duchesne in 1977. From there, he attended Florissant Valley Community College.

Mike has been employed by Draco Mechanical Supply, Inc. since 1987 and serves customers such as General Motors, BASF Chemical Plant, Anheuser-Busch Brewery, and Ameren's Callaway Nuclear Plant. He is an active member of his community, serving 35 years in the Knights of Columbus.

Mike also has a long history of service at St. Charles Borromeo Parish and School, Duchesne High School, and the city of St. Charles. Mike currently sits as president of the St. Charles Parks Board.

Mike's wife Chris (Feuerstein) graduated from DHS in 1978 and all three of their kids are DHS grads as well.

Ann Tollefson was the valedictorian of her 1976 graduating class. Following graduation, Ann earned Magna Cum Laude as a top mathematician from Rockhurst University. She spent the majority of her successful professional career at Southwestern Bell Telephone before leaving to raise her family.

Ann remains active in the community. From 2012-2018, she was a member of the St. Louis Archdiocese Catholic Board of Education, serving as vice president and president. Ann has dedicated much of her time and passion to the Academy of the Sacred Heart and St. Charles Borromeo Catholic Church. She served on the 200th Anniversary of St. Rose Philippine Duchesne's Arrival in St. Charles Planning Committee. She is currently serving on Birthright's board of directors and is an Associate of the Religious of the Sacred Heart.