Status Report from the President | August 10, 2018
Dear Duchesne Community,
My yearly status report is below. We endeavor to keep our community updated as to our priorities and strategies. Thank you for your continued support of DHS.
God Bless You and Yours,
Chuck L. Nolan Jr.

President
Click HERE or scroll below to Read the President's Status Report.
---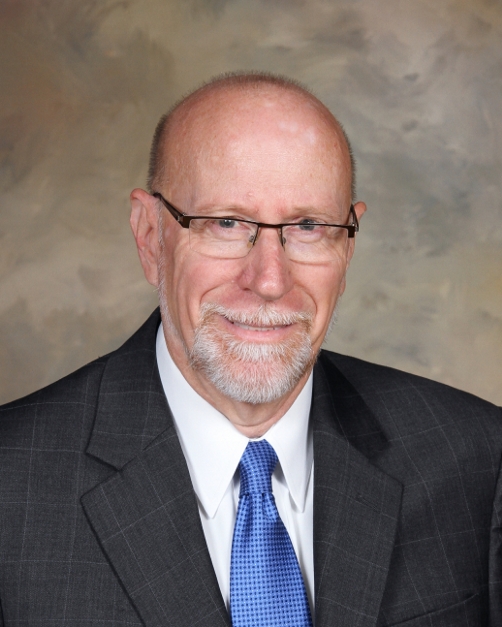 Dear Alumni, Parents, and Friends,
Thank you for being an important member of our Duchesne High School community. Your support truly makes a difference!
Our team is working to make a difference as well. Following is our 2018-2019 President's Status Report, which provides an update on our projects and successes.
Thank you for your time and interest! Please let me know if you have questions or would like any further information.
God Bless You and Yours,

Charles L. Nolan Jr., President
Summer 2019
636-946-6767
cnolan@duchesne-hs.org
Enrollment Management
Our first priority in the Advancement Office continues to be enrollment. We welcome Maddie Dodson '14 as our director of admissions and marketing. Maddie started with us this past February.
We ended this year with 312 students. We have budgeted for 320 students for the coming year. As of this writing, we have 328 students enrolled for 2019-2020. We know this may change by August 15 and are hopeful it will be more. As you can see, we are steadily increasing in enrollment. We will continue to hold enrollment as our first priority, and continue to seek new ways to attract students to our excellent school.
I have been saying for years that what Duchesne does so well is to take students where they are developmentally and produce men and women who are ready to lead. We produce leaders in mind, body, and spirit. With the addition of our Scholars Academy and the House Program in the past few years, this is even more apparent.
One of my greatest joys is to see these leaders develop from the first day of orientation to Graduation Day. I am sure their parents are also joyful, but I am especially proud of them.
Alumni Relations
Our Pioneer Prayer Fridays will continue. This is a great way for our alumni to participate in our mission to shape leaders in mind, body, and spirit. The guest alum reads the prayer for that morning and then shares their memories of Duchesne and tells about their present life — family, community involvement, and occupation. This is really an example of Pioneer Pride speaking to the future. I want to thank those alums who have participated, and welcome all alumni to contact Nancy (Rothermich) Kohl '78 if you are interested in being a future prayer guest.
We invite all alumni to participate in our events for Alumni, Parents, and Friends. We will have two Saturday evening Trivia Nights this year: August 10 and January 18. We will continue our Night at the Races on Saturday, October 18. We are also adding a new event, a Texas Hold'em Tournament on Saturday, March 7. These are all fun events — get your classmates together to reminisce and enjoy each other's company! All events are on campus in the PAC, or for those with long memories, the old gym where I just happened to coach basketball. Do you remember the terrible towels?? Those were the days!
Other Special Events
Golf Tournament
Our golf tournament this past year was a sellout! It netted $10,952 for the institution, supporting Alumni Scholarships and other budgeted expenses. This year's tournament is at St. Peters Golf Club on Friday, September 20. Now is the time to get your foursome together, as we expect another sellout this year. This is always a great day; wear your golf shoes and Pioneer blue!
Grandparents Day
Honestly, what can I say about this event that would adequately describe the day and the heartfelt appreciation of our grandparents for a day spent with their grandchildren? We love doing this day because of the relationship of love that is exhibited by all in attendance. When I greet grandparents at the door, there is special twinkle in their eye as they look for their grandchildren. This year's event is planned for Friday, November 8.
Cor Duchesne Dinner
This year's donor dinner was once again a revenue producer for the school with a voluntary donation by attendees. Most donations exceeded the cost of the dinner, some were very generous. This year, because of Mr. Long's absence, we had a student speaker.
Pioneer Expedition Dinner Auction
We are thankful to all who attended our 2019 auction. Our Fund-a-Need was for classroom renovations. We even had one of our renovated classrooms on display. We raised $46,610 for this purpose. (Renovation of one classroom costs approximately $30,000.) A good time was had by all, and it was a good evening for me until my wife fell and broke her kneecap as I was saying goodbye to patrons. It was a ride in an ambulance to the emergency room for us. Donna has had surgery, her leg has been immobilized for six weeks, and we are hoping to begin PT this week.
Work on next year's auction has already begun. Kate Santellano and Beth (Stiebel) Norviel '90 will be chairing next year's auction and working with a group of volunteer subcommittee chairs.
Dream Home Raffle
This year's Dream Home Raffle was short of a sell out by 249 tickets. It was the second most profitable year for this fundraiser, since last year was the first sellout. The 2019 Dream Home Raffle's net profit was $161,000. Thank you to our sponsor, Fischer & Frichtel Homes. God Bless all our sellers and buyers who knowingly or unknowingly helped advance our mission.
Annual Pioneer Fund
As we end this fiscal year, we have met our budgeted goal of $100,000 for the annual Pioneer Fund. We thank all of our donors, especially those who gave matching gifts from their employer. Matching gifts from all sources this year increased by approximately $20,000 over last year's total.
The annual Pioneer Fund is critical to the operation of the school. For alums, it is the opportunity to give back to the institution that formed you in your critical adolescent years. Now is your opportunity to pay it forward for all our current deserving students.
For parents, the annual Pioneer Fund is an opportunity to give a tax deductible gift, understanding that we don't charge in tuition what it actually costs to educate each student. There is about a $3,000 difference. Beyond this, over 50% of our student population receives some type of tuition assistance. We encourage all of our constituents — parents, alumni parents, grandparents, alumni, and friends — to help with a gift to the annual Pioneer Fund. These free-will gifts are very important to the sustainability of the institution. Now is the time to make a gift.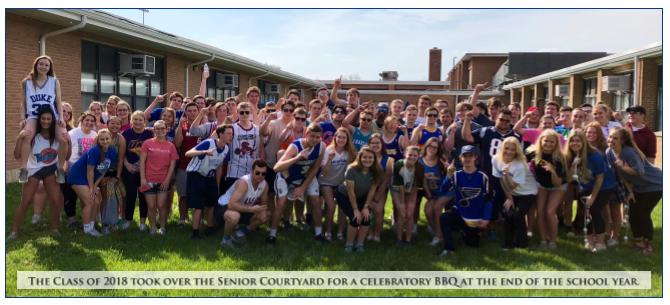 Business Alliance Program
Please welcome Abigail (Trotter) Sweeney '04 to the Advancement office. Abby's duties will include solicitation for the Business Alliance program and producing the Leaves alumni magazine. The Business Alliance program is being instituted to make one ask to businesses for the entire year for all of our fundraising events and marketing opportunities, like signs on the athletic field, event sponsorships, etc. This will enable Nancy Kohl, our past Leaves producer, to spend more time on the annual Pioneer Fund and other important fundraising efforts like Families Helping Families, Classroom Renovations, and Planned Giving.
The decision to hire Abby sprang from the Advancement Council, which consists of these Fichtenmayer, Terry Gravemann '68, Matt Johannesman '85, Michael Kelley '93, Theresa (Lynch)Ruzicka '78, Mike Ryan '77, Scott Schneider '85, and Gerry Wappelhorst '69. The Advancement Council was formed to help with the Business Alliance program and to help with solicitation of individual donors to the school.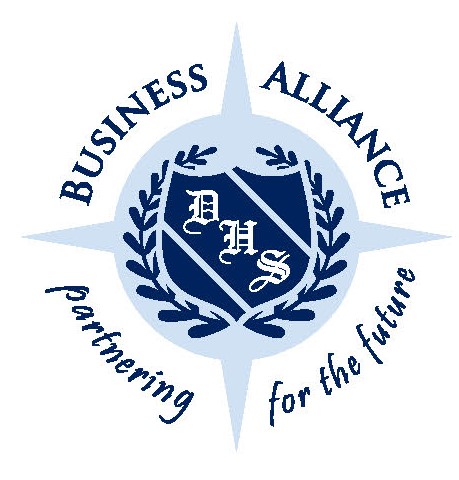 Facilities Upgrades

This past year the main office was renovated with walls removed, new carpet, new lighting, new banners on walls, and a safety upgrade involving the front entrance. The renovation has made this space welcoming and spacious for our guests.
This summer we are working on renovating three additional spaces, thanks in part to a $100,000 gift from the Thomas Messner '47 Memorial Education Enhancement Fund and a Beyond Sunday Academic Capacity Enhancement Grant for $65,000. One of the math rooms has received new carpet and new student furniture. The chemistry lab and classroom space will be renovated with new lab tables and storage space, new lighting, new shades, and new classroom furniture. The art room will also be renovated with new art desks (the current desks are the drafting tables used in the 70s and 80s), new flooring, and some new storage space.
We will continue renovations as funds become available, and thank our friends and alumni such as Walt Schaeffer '45, Bob Boschert '68, and the Glosiers [Ted and Sue (Eckelkamp), both '71, and Jeff and Meagan (O'Brien), both '97] for their gifts toward this effort. The cost to renovate a classroom is approximately $30,000. That amount donated for this purpose will give sole naming rights for that classroom to the donor(s).
Through the efforts of the Duchesne Athletic Boosters (DAB), our scoreboard was newly-wrapped, the black fence between the athletic field and the practice field has been replaced, the storage shed next to the football field has been repaired, a Duchesne decal was added to the wall facing the field, and the State Championship sign was repainted and updated.to include this year's Girls Soccer State Championship.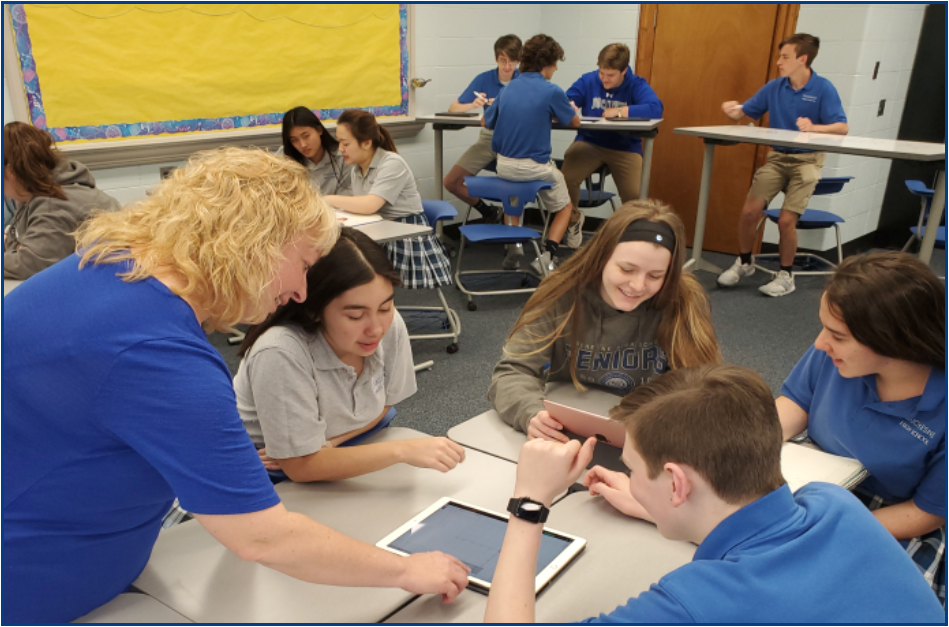 State Champions
Our girls soccer team achieved state title greatness! It has become a common thought that of course we will win a state title this year. But state titles are not easy to come by. Having a dynasty of state titles is even more difficult to achieve. We congratulate Coach Pat Turner and his assistant coaches for their work and dedication to excellence. Of course, we also recognize the team for their tenacity and skills. Go Pioneers!!!!

The House System
Our House system had an amazing first year under some strong student leaders and dedicated faculty members. The greatest joy for our House director, Mrs. Julie Renaud, was watching the House captains and officers blossom into leaders who placed the betterment of the school and students above their own needs and desires. She has assured me that the hole these young men and women have left by graduating has been filled by excited and willing rising seniors. I am so pleased to express my gratitude to all who have helped get this venture off the ground.
The House program set some lofty goals for their inaugural year, like providing one-to-one mentorship for all incoming students, tutoring and supporting students who experience academic challenges, increasing student involvement, and adopting and implementing a character education program. They met all their goals. Following is some anecdotal evidence that the program is working:
The mentorship application meeting for this coming year packed the cafeteria. Sophomores are excited about getting their own incoming students to guide.
A great story demonstrating the tutoring and support being offered students in need was reported shortly before Christmas. Lauren Reifsteck '18 was tutoring a young lady in a particular class. Lauren asked the young lady if she had discussed her academic performance with the teacher. The student indicated she found that particular task intimidating. Lauren went with the student to facilitate the conversation.
Students are attending more events and participating more in school. In recent history, Spirit Week has experienced poor participation percentages, but this year, students and staff got involved.
Among this past school year's service projects, students filled the Dean Dome with cereal boxes and then again with diapers. (For those unfamiliar with this room title, this is 24A next to the old library, now chapel, a small room where I taught 27 students in 1978.) During Mission Week, the Penny Wars event alone raised a record $1,500 for Heifer International.
The deans, captains, and officers are meeting over the summer to ensure a smooth transition. They are working on improving the mentorship and character education programs. They are also excited to be adding a component termed "Adulting 101." This new aspect of the House program is completely student driven. Students have provided topics they want to learn about, and the House leadership is working to make those a reality. In the near future we may be requesting your assistance with this project.
Also, the House director and deans were invited to speak at the House Institute, hosted this year at Chaminade, on starting a House program and the lessons learned from their first year. This is an honor, and we are proud of all they accomplished.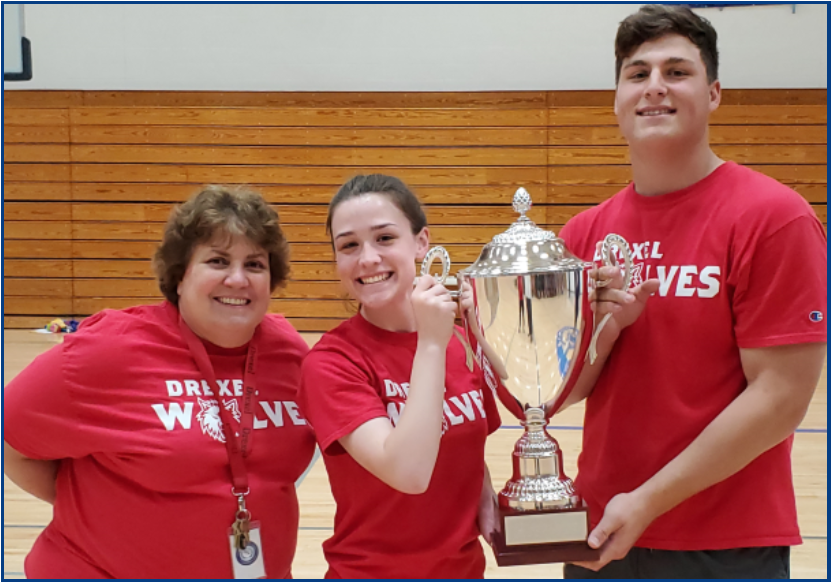 Closing Thoughts
I salute our principal, Fritz Long, and all our faculty and staff for their willingness to pursue excellence and to take risks for our students. I could not be more proud of them. I am very thankful to our Advisory Board, our Advancement Council, and all our countless donors for your support.
Again, it is with humble gratitude that I express my joy at being Duchesne's president. I ask you to keep me and all the Duchesne community in your prayers. Let us share the light of Christ that is Duchesne. May St. Michael, the Archangel, keep us safe. Remember, We are Duchesne!!